Workup
Approach Considerations
Pilomatricoma may be associated with Turner syndrome, constitutional mismatch repair deficiency, Kabuki syndrome, Steiner myotonic dystrophy, and Gardner syndrome. In the case of Gardner syndrome, pilomatrical change may be noted within epidermoid cysts. [46]
Imaging Studies
Radiography
Plain radiography often shows nonspecific calcification of the lesion.
Ultrasonography
In one review of 25 pediatric patients, investigators found that ultrasonography characteristically showed an ovoid complex mass at the junction of the dermis and subcutaneous fat, with focal thinning of the overlying dermis. [47] It consistently appeared as a target lesion, with a hypoechoic rim and an echogenic center. The hypoechoic rim corresponded to the connective tissue capsule; the irregular echogenic center corresponded to the central island of epithelial cells. Ultrasonography also shows calcification. For lesions overlying the parotid gland, ultrasonography helps delineate the relationship between the lesion and the parotid gland.
Magnetic resonance imaging
Current literature suggests that pilomatrixomas may show as homogenous, well-defined intermediate signal intensity on T1-weighted images and heterogenous-to-high intensity on T2-weighted images. [25] MRI may be diagnostic if further reports can confirm the correlation between the high-signal bands in T2-weighted images and the bands formed by basaloid cells evident upon histologic examination. [48]
CT scanning
In 4 of 33 patients, CT scanning of the parotid region was performed and showed a well-delineated subcutaneous tumor showing microcalcifications and metabolic activity, but the diagnosis proposed by the radiologist was adenopathy. [24]
Other Tests
Fine-needle aspiration has been studied as a diagnostic tool [49, 50, 51, 52, 53, 54] ; however, misinterpretation of the lesion as carcinoma, basal cell carcinoma, and pleomorphic adenoma with squamous metaplasia has been reported. The presence of ghost cells, basaloid cells, and calcium deposits in the appropriate clinical setting permits diagnosis by aspiration.
Procedures
Take a biopsy specimen of lesions to look for characteristic changes that establish the diagnosis and to rule out other conditions that can clinically resemble pilomatrixoma.
Histologic Findings
The lesion is usually found in the lower dermis and subcutaneous fat. It is sharply demarcated and is usually surrounded by a connective tissue capsule. Irregularly shaped islands of epithelial cells are seen; they can be recognized as either basophilic cells or shadow cells. Basophilic cells are usually arranged either on one side or along the periphery of the tumor islands. The shadow cells have a central unstained area, corresponding to the lost nucleus. As the lesion ages, the number of basophilic cells decreases. [55] Calcium deposits are seen in 75% of lesions with von Kossa staining. See the images below.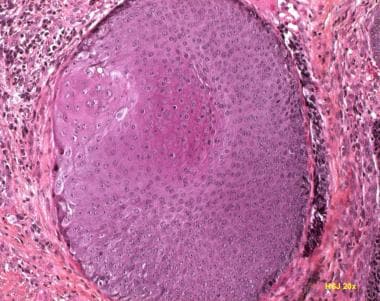 Pilomatricoma with prominent basaloid cells.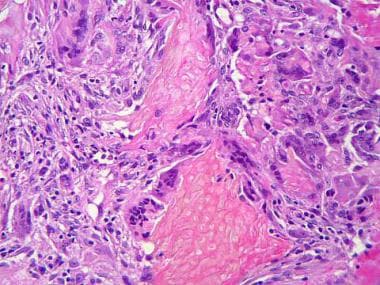 Ghost cells (shadow cells) and basaloid cells, associated with a granulomatous reaction. Shadow cells are also seen in this high-power micrograph.
What would you like to print?