Presentation
History
Patients with sebaceous adenomas typically experience a gradual onset of small, usually less than 0.5 cm in diameter (2-4 mm), smooth, yellow, sometimes speckled papules that may feature crusting or central umbilication. Typically, they grow on the skin of the face or scalp over the course of a few months and are asymptomatic.
Identification of sebaceous adenomas is crucial because of their association with Muir-Torre syndrome. In Muir-Torre syndrome, germline mutations in mismatch repair genes result in regions of DNA microsatellite instability and subsequent increased risk of developing internal malignancies, commonly colorectal and genitourinary carcinomas.
Physical Examination
Sebaceous adenoma is defined as a benign epithelial neoplasm composed of sebaceous gland–like structures or tumors with well-recognized sebaceous differentiation by microscopic examination.
Sebaceous adenomas range from less than 1 cm (usually 2-4 mm) to greater than 5 cm in maximum dimension. Tumors most frequently appear as a yellow, speckled, smooth-surfaced, circumscribed papule or nodule (see the image below). They can be tan or pink-to-red, and they may feature a polypoid appearance, crusting, and/or central umbilication.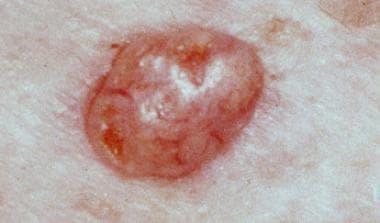 A biopsy-proven sebaceous adenoma on the forehead of a 64-year-old man. The tumor appeared as a dome-shaped, elevated nodule with a circumscribed margin. It measured 8 mm in diameter, with a smooth, shiny, yellow, and speckled appearance. The tumor had a history of slow growth, and the patient had noticed it for more than a year. Note the pearly appearance and the presence of a few capillaries traversing the tumor surface, a feature closely mimicking the clinical appearance of that of a basal cell carcinoma. The total surgical removal of this tumor was uneventful. The patient has not experienced a recurrence.
Tumors are commonly located on the face, the scalp, and the neck. Occasionally, tumors may be seen at other sites, including the trunk and the legs. Sebaceous adenomas have been described on the caruncle of the eye, [19] eyelid, [20] bulbar conjunctiva, [21] and buccal mucosa. [22]
The clinical impression prior to the time of biopsy is usually that of basal cell carcinoma or a nondescript papule without definitive clinical diagnosis.
What would you like to print?