Presentation
History
Patients may be concerned for cosmetic reasons or may be worried about possible malignancy. Lesions are usually described as asymptomatic, soft, discrete, and yellow, with a surface that ranges from smooth to slightly verrucous. Patients may report one or multiple lesions at various locations on the face. Lesions may become red and irritated and bleed after scratching, shaving, or other trauma.
Physical Examination
Sebaceous hyperplasia is often found incidentally upon examination. The classic appearance of facial sebaceous hyperplasia on physical examination reveals whitish-yellow or skin-colored papules that are soft and vary in size from 2-9 mm. These papules have a central umbilication from which a very small globule of sebum can sometimes be expressed. Some papules may be associated with characteristics similar to basal cell carcinoma, such as telangiectasia.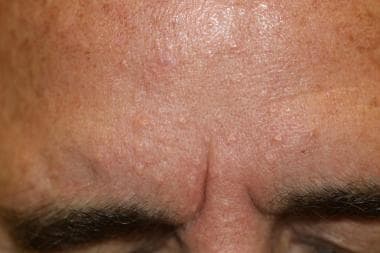 Typical distribution of sebaceous hyperplasia on the forehead in a middle-aged male.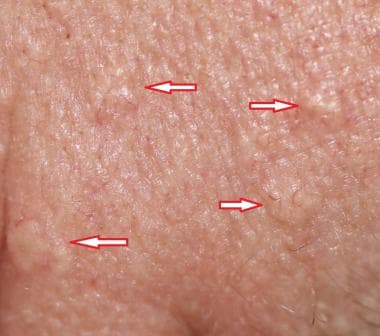 Close-up of typical sebaceous hyperplasia on the face (red arrows).
Depending on the variant, sebaceous hyperplasia may be found singularly, grouped (as in the nevoid and linear form), diffuse, or extensive. Juxtaclavicular beaded lines are an additional variant characterized by closely placed papules arranged in parallel rows within the skin of the neck and overlying the clavicle. [27]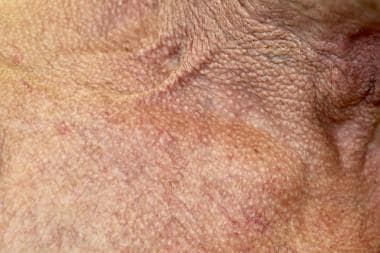 Juxtaclavicular beaded lines, a variant of sebaceous hyperplasia, in an elderly man.
Dermoscopy may be useful as a noninvasive tool to aid in the clinical diagnosis and in distinguishing between nodular basal cell carcinoma and sebaceous hyperplasia, reducing unnecessary surgery. [28, 29, 30, 31]
Complications
Irritation or bleeding may occur if lesions are in an area prone to trauma (eg, friction by a comb or brush).
What would you like to print?