Workup
Laboratory Studies
No laboratory studies are necessary. Biopsy is occasionally indicated to exclude basal cell carcinoma.
Histologic Findings
These lesions reveal discrete, enlarged glands. Within each gland, mature sebaceous lobules or acini surround and connect to a dilated central sebaceous duct. The lobules have one or more basal cell layers at their periphery, with undifferentiated sebocytes that contain large nuclei and scant cytoplasmic lipid, in contrast to normal sebocytes, which are engorged with lipid.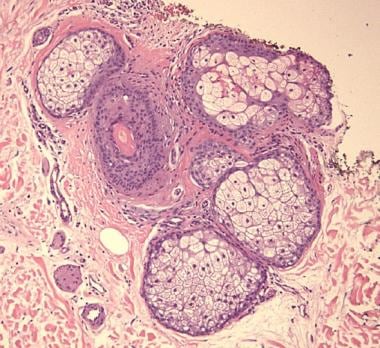 Normal sebaceous gland histology. Courtesy of Cooper Heard, MD.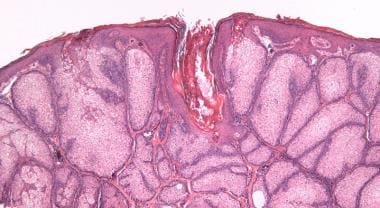 Histology of sebaceous hyperplasia; enlarged sebaceous gland with multiple lobules grouped around a central dilated sebaceous duct. Courtesy of Cooper Heard, MD.
What would you like to print?