Presentation
History
After its appearance, the lesion tends to grow rapidly and may reach a size of 1 cm within 6 months. Spitz nevi tend to become static after the rapid initial growth phase; however, color changes may be observed, and bleeding and pruritus are rarely noticed (see the image below).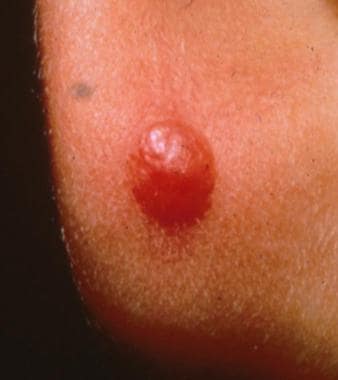 Spitz nevus on the ear of a child.
Physical Examination
Single, dome-shaped, red or pigmented papules or nodules are typical. Most lesions occur on the face or legs; rare cases of oral Spitz nevi were also reported. [13] The color may vary from nonpigmented through pink to orange-red. Some lesions are pigmented, especially those found on lower extremities. Note that the rare recurrences may mimic metastatic malignant melanoma.
Misdiagnosis of Spitz nevi as melanomas and misdiagnosis of melanomas as Spitz nevi is a possibility. In one study, 6.5% of cases diagnosed clinically as melanomas were Spitz nevi. Histopathologic differentiation from melanomas is equivocal in up to 8% of cases.
Criteria that in concert strengthen the probability of the diagnosis of Spitz nevus in any given case include a young patient, a well-demarcated and symmetrical lesion, maturation and dispersion of melanocytes at its base, and the presence of epithelial hyperplasia, but no criterion is absolutely reliable.
What would you like to print?