Workup
Histologic Findings
Cysts are located in the mid dermis. The cyst lining is a crenulated or wavy, homogeneous, eosinophilic horny layer collapsed around thin cystic spaces. The spaces hold varying amounts of keratin, vellus hairs, and sebum esters, the latter of which often are removed by tissue processing. Walls are formed from several layers of epithelial cells, with embedded flattened lobules of sebaceous glands among the epithelial cells. Invaginations resembling hair follicles can also be found emptying into the cyst. Cyst units may be attached to the overlying normal epidermis by a thin strand of undifferentiated epithelial cells. All reported cases of steatocystoma multiplex exhibit an eosinophilic cuticle and lack of a granular layer. In contrast, eruptive vellus hair cysts are lined by mature squamous cells with a granular layer and are not associated with sebaceous glands.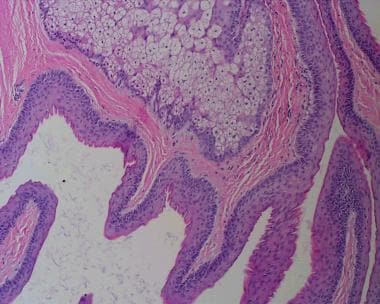 Note the crenulated eosinophilic lining of the cyst wall (10X magnification).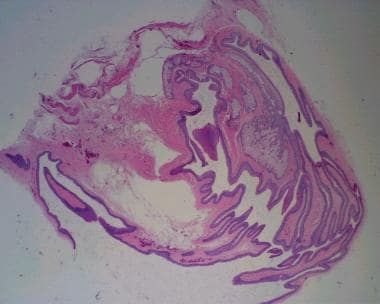 Note the sebaceous glands within the cyst wall (2X scanning view).
What would you like to print?