Presentation
History
Slow-growing, single or multiple papules or nodules are typically observed on the face, as demonstrated in the image below.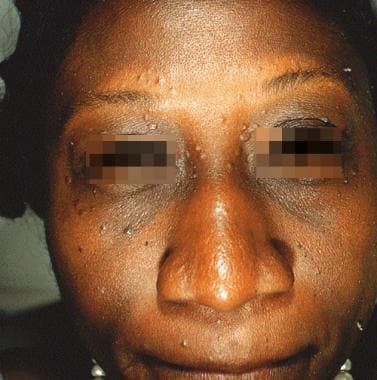 Characteristic clinical morphologic features. Notice the numerous, small papules, predominantly close to the midline.
The occurrence of multiple trichoepitheliomas is transmitted as an autosomal dominant trait. Lesions first appear in childhood and gradually increase in number.
In patients with multiple trichoepitheliomas, interview the patient's family for a familial history of trichoepithelioma.
Physical Examination
The lesions are rounded, skin-colored, firm papules or nodules that are 2-8 mm in diameter.
The lesions are located mainly on the nasolabial folds, the nose, the forehead, the upper lip, and the scalp; 50% of lesions occur on the face and the scalp. Occasionally, lesions also occur on the neck and the upper part of the trunk. Heller et al report a rare case of trichoepithelioma of the vulva. [15]
Ulceration is rare.
In the autosomal dominant form, multiple trichoepitheliomas may be present, usually on the nasolabial folds.
In some cases, the distribution is dermatomal. An association may exist with other cutaneous tumors (eg, cylindroma or Brooke-Spiegler syndrome, spiradenoma, basal cell carcinoma, ungual fibromas) or dystrophia unguis congenita.
Trichoepithelioma may be part of the Rombo syndrome (ie, vermiculate atrophoderma, milia, hypotrichosis, trichoepithelioma, basal cell carcinoma, peripheral vasodilatation).
Solitary giant trichoepithelioma presents as a large, polypoid lesion, usually in the lower part of the trunk or in the gluteal area.
What would you like to print?