Presentation
History
Warty dyskeratoma (WD) commonly presents as an asymptomatic keratotic nodule. Scalp, face, and neck are common sites of involvement. Mucosal lesions have been reported. [2, 3, 5] Multiple lesions in the same patient have been reported. [6, 7] Patients may report an insidious onset or a slight recent enlargement of the lesion.
Physical Examination
Warty dyskeratoma (WD) presents as a whitish or grayish hyperkeratotic papule with an umbilicated center, often involving the face, scalp, or back. Lesions are usually smaller than 1-2 cm.
Rarely, lesions with a similar appearance can be found involving the mucosal surfaces. [2, 3, 5] Infrequently, subungual warty dyskeratoma occurs and when it does it produces longitudinal erythronychia. [13, 14] Multiple lesions may occur in exceptional cases. [6, 7]
Causes
James Fitzpatrick, MD, of Dermatopathology Consultants of Colorado, has demonstrated using immunohistochemistry (unpublished work) that warty dyskeratoma demonstrates absence of SERCA2. This finding suggests that acquired genetic mutations in ATP2A2, as demonstrated by the absence of its protein product, SERCA2, play a role in the development of WD. See the image below.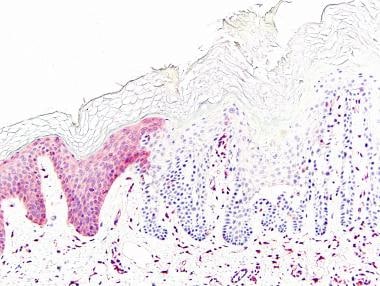 Absence of sarco/endoplasmic reticulum Ca2+ ATPase 2 (SERCA2) staining by immunohistochemistry within a warty dyskeratoma (right side of image), in contrast to the unaffected epidermis (left side of image). Photomicrograph courtesy of James E. Fitzpatrick, MD.
To date, genetic evaluations of warty dyskeratoma (WD) for mutations in ATP2A2 (gene encoding SERCA2) have not been reported in the literature.
Two reports have demonstrated immunohistochemical staining of WD with antikeratin antibodies HKN-6 and HKN-7, and this reaction was interpreted as suggesting a follicular origin for WD.
Ultrastructural findings have been interpreted to suggest that acantholysis is due to a defect in desmosome-tonofilament complexes.
Epidermal viral infection with secondary hyperproliferation and acantholysis has also been proposed as a causative mechanism. However, a 2002 study showed that 13 of 13 cases did not show human papillomavirus DNA after polymerase chain reaction testing, and no data support a viral etiology at this time. [11]
What would you like to print?