Workup
Laboratory Studies
Because warty dyskeratoma (WD) has repeatedly been shown to be a lesion not associated with systemic disease, no laboratory studies are necessary.
Imaging Studies
No imaging studies are necessary.
Procedures
A biopsy specimen interpreted by a dermatopathologist is the criterion standard for diagnosis.
Histologic Findings
The pathologic process is that of a well-circumscribed endophytic or endo-exophytic epithelial proliferation of benign squamous cells demonstrating elongated dermal papillae (villi) with suprabasilar acantholysis and dyskeratosis. Dyskeratotic cells are referred to as corps ronds and grains. A central keratin-filled invagination may be identified. The lesion can sometimes be seen originating from a hair follicle or sebaceous gland.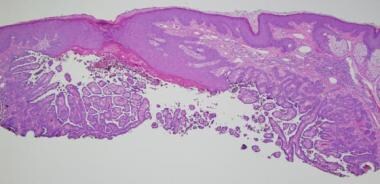 Warty dyskeratoma. An endo-exophytic squamous proliferation of cytologically benign, acantholytic, and dyskeratotic keratinocytes.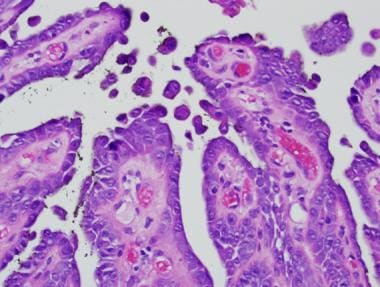 Villi lined by acantholytic keratinocytes, some of which are dyskeratotic (corps ronds and corps grains).
Staging
Staging is not necessary for this benign lesion.
What would you like to print?