Workup
Histologic Findings
Following surgical excision, these tumors are found to consist of a dilated primary follicle lined by infundibular, stratified squamous epithelium and opening to the skin surface. [12]
Low-power view of trichofolliculoma with a primary follicle opening onto the skin surface.
From the central follicle outward, numerous secondary and tertiary follicles can be observed, presenting at various levels of hair-follicle differentiation. Hair structures may be observed within the hair follicle lumen; small sebaceous elements may be found within the follicular units.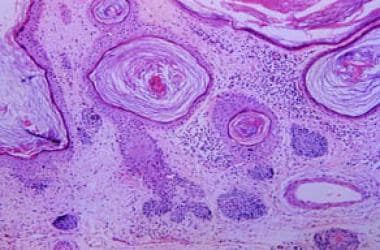 Edge of the primary follicle with associated secondary and tertiary budding follicular structures.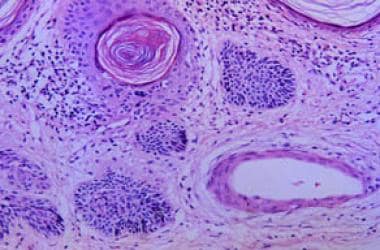 Higher magnification of budding follicular structures.
Minimal lymphocytic or granulomatous inflammation may be present. An abundant connective tissue stroma is also present surrounding the follicular structures.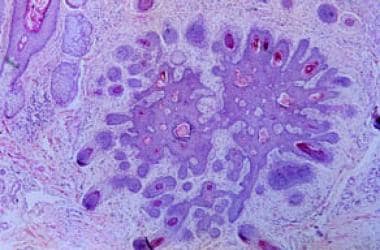 Low-power view of a section of trichofolliculoma demonstrating budding follicular structures and associated stroma.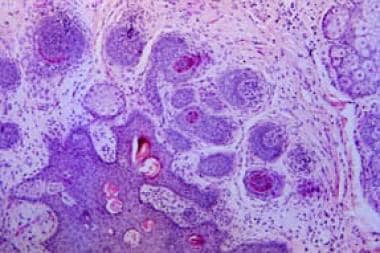 Higher magnification of budding follicular structures and associated stroma.
Abundant Merkel cells have been demonstrated within the follicular epithelium, supporting the concept that trichofolliculomas are hamartomas. [13]
A variant of the trichofolliculoma is the sebaceous trichofolliculoma, featuring similar histologic features, except for the presence of numerous well-differentiated sebaceous lobules emptying into the central, dilated primary follicle. Sebaceous trichofolliculoma demonstrates histologic overlap with folliculosebaceous cystic hamartoma. [14, 15] Some consider the latter tumor to be a sebaceous trichofolliculoma in telogen phase. A single case of trichofolliculoma with perineural invasion has been reported in the literature. [16]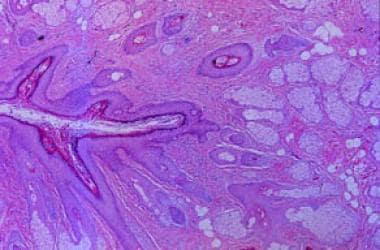 Higher magnification of central primary follicle and associated sebaceous lobules.
Other Tests
In a single trichofolliculoma case, Karaarslan et al reported reflectance confocal microscopy (RCM) findings. A honeycomb pattern with some disarray was noted at the epidermal level. Although there were no atypical cells, some bright inflammatory cells were present. The epidermal thickness was lessened. Rings were scarce at the dermoepidermal junction. Additionally, squamous hyperplasia was present, comprising irregular finger-like protrusions circumscribing the hair follicle. Papillomatous hyperplasia in the hair follicle epithelium was also noted. Coarse collagen fibers beneath the follicles were present at the dermal level. [17]
What would you like to print?