Presentation
History
Acrochordons are flesh-colored pedunculated lesions that tend to occur in areas of skin folds. A family history sometimes exists of acrochordons. These tumors are usually asymptomatic, and they do not become painful unless inflamed or irritated. Patients may complain of pruritus or discomfort when an acrochordon is snagged by jewelry or clothing.
Acrochordons may occur at unusual sites of the body. A huge acrochordon has been described on the penis. [16] A lymphedematous acrochordon of the glans penis unassociated with condom catheter use also has been described. [17] Another large one was noted on vaginal labia of a 27-year-old woman. [18] An acrochordon may be associated with vulval itching without the symptom being the result of fungal infection. [19] Endoscopy may reveal FEPs arising in a ureter. [20]
Multiple skin tags are often linked with type 2 diabetes mellitus and with obesity, prompting a study of 58 people with skin tags. It showed that people with skin tags had significantly higher serum cholesterol and lower density lipoprotein levels, but not serum leptin levels, when compared with a healthy control group lacking skin tags. [21]
Acrochordons show a statistically significant relationship with obesity. [22]
Acrochordons have been linked with the components of the metabolic syndrome, [23, 24, 25] representing a cutaneous sign for impaired carbohydrate or lipid metabolism, liver enzyme abnormalities, and hypertension. [26] One survey from 2016 linked acrochordons with elevated serum triglyceride, low-density lipoprotein, very-low density lipoprotein, and leptin levels. [27] It was suggested that people with multiple acrochordons should be encouraged to reduce their weight, stop smoking, and practice healthy dietary habits.
Physical Examination
Skin tags may occur singly or multiply, and they are most often found in intertriginous areas (eg, axillae, neck, eyelids) (see the image below). They are also commonly located on the trunk, the groin, the abdomen, and the back.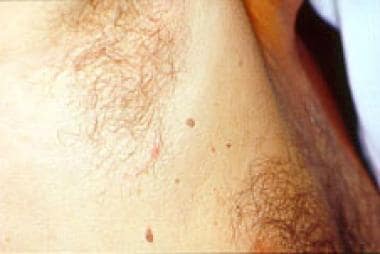 A 53-year-old man with multiple, small, axillary skin tags.
FEPs of the oral mucosa, anus, and vulvovaginal areas may be found. These lesions may be flesh colored or hyperpigmented. Pedunculated lesions may become twisted, infarcted, and fall off spontaneously.
Three types of acrochordons are described, as follows:
Small, furrowed papules of approximately 1-2 mm in width and height, located mostly on the neck and the axillae

Single or multiple filiform lesions of approximately 2 mm in width and 5 mm in length occurring elsewhere on the body

Large, pedunculated tumor or nevoid, baglike, soft fibromas that occur on the lower part of the trunk
Giant acrochordons garner considerable attention, producing considerable discomfort for patients when located in the axillae and genital regions. [28, 29, 30]
Other disorders may appear within an acrochordon. An acrochordon with histological features of lichen sclerosis was observed. [31]
What would you like to print?