Workup
Imaging Studies
A congenital perineal skin tag manifested as a perineal tumor during a second-trimester ultrasound scan at 23 weeks' gestation. [44] It was an innocuous finding.
Incidental uptake was noted by an acrochordon on a gallium-68 prostate-specific membrane antigen positron-emission tomography scan. [45]
Histologic Findings
Acrochordons are characterized by acanthotic, flattened, or frondlike epithelium. A papillarylike dermis is composed of loosely arranged collagen fibers and dilated capillaries and lymphatic vessels (see the images below). Appendages are generally absent. Acrochordons were thought to be marked by decreased numbers of elastic fibers, though one study of elastic tissue in FEPs showed no deficiency of this tissue.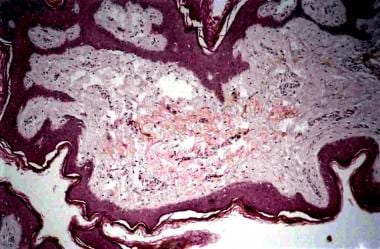 A hyperplastic epidermis showing papillomatosis, hyperkeratosis, and acanthosis overlying loosely arranged collagen fibers and many capillaries.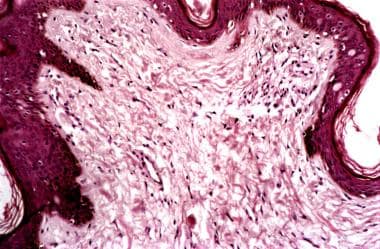 A higher-power view demonstrating to better advantage loosely arranged collagen fibers and many capillaries.
Acrochordons (skin tags) are often considered clinically insignificant cutaneous redundancies that should be removed without histopathologic analysis. [46] However, one may rarely find another neoplasm within an acrochordon. A squamous cell carcinoma that had features resembling a keratoacanthoma was recently described. [35]
What would you like to print?