Presentation
History
Asymptomatic, small, papular skin lesions develop gradually over the scalp, face, neck, and upper trunk, as shown in the image below.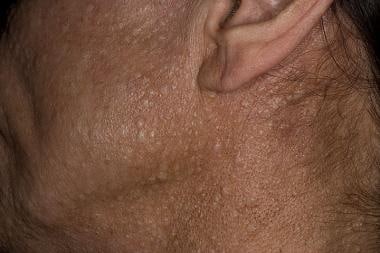 Birt-Hogg-Dube syndrome lesions. Courtesy of Madhero88, via Wikimedia Commons.
Physical Examination
Multiple, small (2-4 mm), white–to–flesh-colored, smooth, dome-shaped papules are distributed predominately over the scalp, face, oral cavity, neck, and upper trunk. Rarely, these fibrofolliculomas can be comedonal or cystic in appearance. [65] Acrochordons are small, soft, furrowed, 1- to 2-mm papules that may occur on the eyelids, neck, axilla, and upper half of the trunk. Oral mucosal polyps, collagenomas, angiolipomas, deforming lipomas, perifollicular fibromas, and multiple facial angiofibromas also have been reported in association with Birt-Hogg-Dubé syndrome (BHDS). [66, 67, 68, 69]
Menko et al proposed diagnostic criteria for Birt-Hogg-Dubé syndrome (patients should meet 1 major or 2 minor criteria for diagnosis). [70]
Major criteria are as follows:
At least 5 fibrofolliculomas or trichodiscomas, at least 1 histologically confirmed and of adult onset
Minor criteria are as follows:
Multiple lung cysts - Bilateral basally located lung cysts (with no other apparent cause)

Renal cancer - Early onset (< 50 y) or multifocal or bilateral renal cancer, or renal cancer of mixed chromophobe and oncocytic histology

A first-degree relative with BHDS
What would you like to print?