Workup
Laboratory Studies
Immunostaining with vimentin, alpha smooth muscle actin, muscle actin, and desmin are helpful in distinguishing the tumors in the differential diagnosis of desmoid tumors.
APC germline mutations in apparently sporadic desmoid tumor patients who have no clinical or familial signs of familial adenomatous polyposis (FAP) but have a family history of colorectal carcinoma in at least one family member were evaluated by Brueckl et al [4] in 2005. They reported that patients with sporadic desmoid tumors and no clinical or laboratory signs of FAP may not need to be routinely tested for germline mutations of the APC gene. However, performing an APC mutational analysis instead of other tests (eg, esophagogastroduodenoscopy, complete colonoscopy) may be a more time- and cost-effective plan.
Imaging Studies
CT scanning and MRI are used for the diagnosis and follow-up of desmoid tumors. They can help determine the extent of the tumor and its relationship to nearby structures, especially prior to surgical removal. MRI is superior to CT scanning in defining the pattern and the extent of involvement as well as in determining if recurrence has occurred after surgery.
Procedures
The preferred diagnostic test is biopsy of the tumor. A fine-needle aspiration biopsy specimen may be considered. [35]
Electron microscopy may be performed. On electron microscopic examination, the spindle cells of desmoid tumors appear to be myofibroblasts. This finding is thought to represent an abnormal proliferation of myofibroblasts, which normally disappear gradually during the later stages of wound healing.
Colonoscopy and fundal examination are indicated to investigate for the presence of Gardner syndrome.
Histologic Findings
The tumors are composed of abundant collagen surrounding poorly circumscribed bundles of spindle cells. The dense bundles of eosinophilic spindle cells contain regular nuclei and pale cytoplasm with neither mitoses nor giant cells. Macrophages, giant cells, and lymphocytes are present peripherally.
The aforementioned features are in contrast to those in a fibrosarcoma, which has greater mitotic activity, an increased nuclear-to-cytoplasm ratio, greater vascularity, less collagen production, and a paucity of immune cells. [16]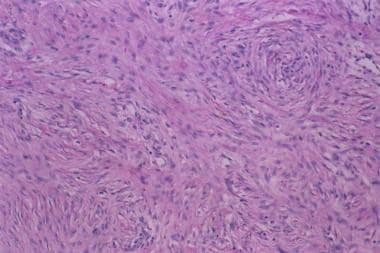 Bland fibrocytic cells of a desmoid tumor growing in a haphazard-to-storiform manner and producing collagen (hematoxylin-eosin, original magnification X100).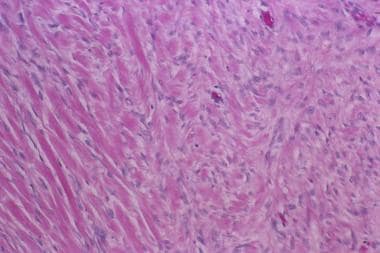 Desmoid tumor spindle cells invading skeletal muscle (hematoxylin-eosin, original magnification X100).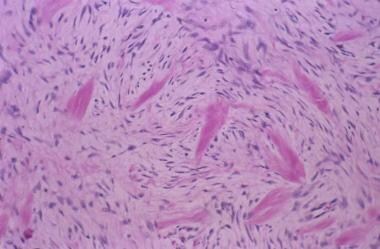 Dermoid tumor spindle cells surrounding and destroying skeletal muscle cells (hematoxylin-eosin, original magnification X100)
What would you like to print?