Treatment
Medical Care
Medical care for Peyronie disease is focused on patient education and mostly only anecdotally effective medical therapies. See Patient Education.
In December 2013, the FDA approved the first drug treatment, collagenase clostridium histolyticum (Xiaflex), for Peyronie's disease. It is an injectable proteinase that hydrolyzes collagen in its native triple-helical conformation, resulting in lysis of collagen deposits. It is believed to work for Peyronie's disease by breaking down the buildup of collagen that causes the curvature deformity.
FDA approval was established by 2 phase 3 randomized, double-blind, placebo controlled studies (Investigation for Maximal Peyronie's Reduction Efficacy and Safety Studies [IMPRESS I and II]). These studies included 832 men with Peyronie's disease with penile curvature deformity of at least 30 degrees. Participants were given up to 4 treatment cycles of collagenase clostridium histolyticum or placebo and were then followed 52 weeks. Treatment with collagenase clostridium histolyticum significantly reduced penile curvature and related bothersome effects compared with placebo (p = 0.0037). [12]
Pentoxifylline, a nonselective phosphodiesterase inhibitor, was found to reduce Peyronie disease plaque size and penile curvature in one double-blind, placebo-controlled trial. [13]
Other medical therapies are mostly of marginal and anecdotal benefit. Their effects are hard to evaluate because of the variable natural history of Peyronie disease. Many remedies exist, but no one medical therapy is clearly superior to any other. Treatments range from oral vitamin E administration to low-dose radiation to intralesional injections of calcium channel blockers. Acetyl-L-carnitine, [14] propionyl-L-carnitine, verapamil, [15, 16, 17] and interferon alfa-2b [18, 19, 20] have limited but reasonable data sets supporting their use.
If erectile dysfunction is present, the condition is unlikely to improve with treatment of the Peyronie plaque alone. The use of sildenafil with an intracavernous injection or a vacuum device is indicated. Intracavernous injections may worsen penile scarring, and the treatments must be monitored carefully. Intralesional injections of interferon alfa-2a may be effective.
Iontophoresis is the use of an electric current to pull medications through the skin to specific sites. This electromotive drug administration has been used to treat Peyronie disease with various combinations of orgotein, dexamethasone, lidocaine, and verapamil. The technique is experimental. Since 2003, several studies have reported some success with a combination of verapamil, lidocaine, and iontophoresis. [21]
Therapies to avoid in Peyronie disease include intralesional steroid injections, which may induce more inflammation, and oral procarbazine administration, which is not effective and may cause blood dyscrasias. [22, 23] Conflicting reports demonstrating some efficacy of intralesional steroid injections may, in fact, represent the mechanical destruction of the plaques with the volume of fluid injected and not the actual compound itself.
Another technique called extracorporeal shockwave therapy, similar to that which is commonly used to destroy kidney and salivary gland stones, has been reported as another treatment modality for Peyronie disease. Conflicting reports and concerns over causing increased inflammation and damage limit its usefulness. [24, 25]
Radiation therapy has been used successfully in Peyronie disease, although standardization of treatment and a determination of the optimal regimen is needed. [26, 27]
Penile traction therapy, while onerous for some, has been shown to be effective in patients with Peyronie disease undergoing intralesional injection therapy. [28, 29, 30]
American Urological Association Guidelines for the management of Peyronie disease have been published. These are useful when determining treatment strategies for a condition with a range of therapies. [31]
Surgical Care
Surgical care for Peyronie disease is focused only on those with significant morbidity and Peyronie disease that is resistant to medical treatment. Surgery is only indicated after an observational period during which the Peyronie disease is shown to be stable.
For the best results, the Peyronie disease plaques and the angulation of the penis should be stable for several months prior to surgery. Unless the inflammatory phase of Peyronie disease resolves first, worsening of the plaque may continue after surgery, which increases the likelihood of recurrent curvature. [32]
Common surgical correction methods are described below.
The Nesbit tuck procedure
Unaffected tunica albuginea is removed from the side of the penile shaft immediately opposite the Peyronie disease plaque to straighten and shorten the penis. For this procedure to work, potency should be normal, and the penile curvature should be less than 60°.
Tunica plication procedure
The tunica albuginea is plicated (not excised) to straighten the penis. This technique also causes penile shortening because the longer side of the penis is effectively shortened to produce a more straight erection. [33] See the intraoperative and postoperative images below.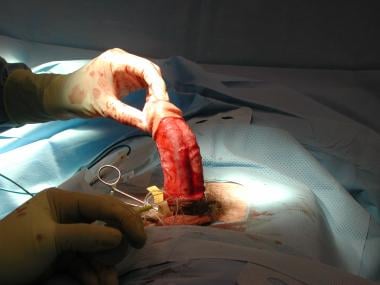 Intraoperative picture of an artificial erection demonstrating lateral curvature.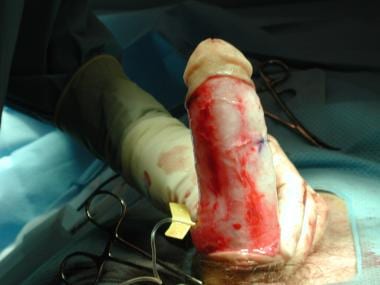 Intraoperative picture after penile plication demonstrating a straight erection.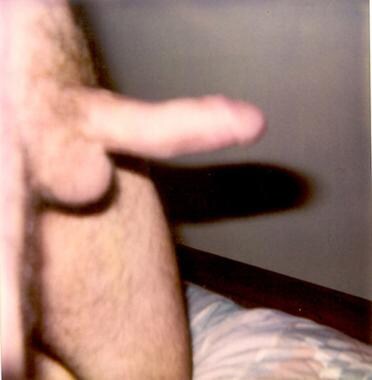 Postoperative picture after surgical repair demonstrates a straight erection.
Plaque excision and grafting
This procedure may be performed to preserve penile length when the curvature is greater than 60°. [34, 35, 36] Autologous tissue-engineered endothelialized grafting has been used. [37]
Penile prosthesis insertion
This method is useful when comorbid severe erectile dysfunction is present. [38] Adjunctive techniques to manage residual curvature, such as manual modeling, plication, or grafting, can be used during prosthesis insertion. [39]
Newer surgical techniques for Peyronie disease include the thinning of the plaque with carbon dioxide lasers. [40]
Consultations
Consultation with a urologist is needed for surgical management. Surgical management is indicated when medical management fails or when significant pain and/or a complete inability to have intercourse is present.
A sex therapist may provide useful adjunct care, both to underscore the realistic expectations and to evaluate comorbid sexual dysfunction.
Prevention
Theoretically, patients with Peyronie disease should avoid vigorous intercourse with a weak erection.
If the patient has diabetes, it should be controlled.
No method for absolute prevention is known.
Long-Term Monitoring
Radiation treatment may be recommended for early, especially painful situations. Radiation from a beta-beam linear accelerator is used to reduce inflammation. This treatment does not change or remove late-stage postinflammatory plaques.
Extracorporeal shock-wave therapy may help in treating the curvature associated with Peyronie disease. This treatment does not help the pain and is still experimental.
What would you like to print?