Presentation
History
Epidermoid cysts are usually asymptomatic. Discharge of a foul-smelling "cheeselike" material may be described. Less frequently, the cysts can become inflamed or infected, resulting in pain and tenderness. In the uncommon event of malignancy, rapid growth, friability, and bleeding may be reported.
Physical Examination
Epidermoid cysts appear as flesh–colored-to-yellowish, firm, round nodules of variable size. A central pore or punctum may be present. Note the image below.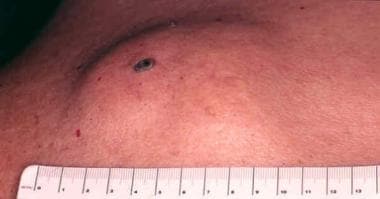 Unusually large epidermoid cyst with a prominent punctum on the back of a patient. (Ruler is in centimeters.)
Reportedly, epidermoid cysts are most common (in descending order of frequency) on the face, trunk, neck, extremities, and scalp. Rare cases of epidermoid cysts occurring in bone, breast, and various intracranial locations have been reported. [36] Epidermoid cysts in the breast and genital area are not uncommon in the general population. The ocular and oral mucosae can also be affected and, cysts have been reported on the palpebral conjunctivae, lips, buccal mucosa, tongue, and uvula.
Epidermoid cysts can manifest in various ways on the extremities. Epidermoid cysts on the distal portions of the digits may extend into the terminal phalanx. These lesions may produce changes in the nails such as pincer nails, erythema, edema, tenderness, and pain. [37]
What would you like to print?