Workup
Laboratory Studies
Laboratory studies are typically unnecessary; however, with recurrent infection or lack of response to antibiotics, a culture and sensitivity may be obtained.
Imaging Studies
If an epidermoid cyst is suspected in an unusual location, such as breast, bone, or intracranial locations, imaging with ultrasonography, radiography, CT scanning, or MRI is appropriate.
Other Tests
Fine-needle aspiration has been used to help diagnose epidermoid cysts in unusual locations, such as the breast. Smears of aspirated material stained with Wright-Giemsa stain demonstrate nucleated keratinocytes and wavy keratin material. [1]
Histologic Findings
Epidermoid cysts are lined with stratified squamous epithelium that contains a granular layer. Laminated keratin contents are noted inside the cyst. An inflammatory response may be present in cysts that have ruptured. Older cysts may exhibit calcification. Pilomatrical differentiation may be noted, especially in patients with Gardner syndrome. [38]
Note the images below.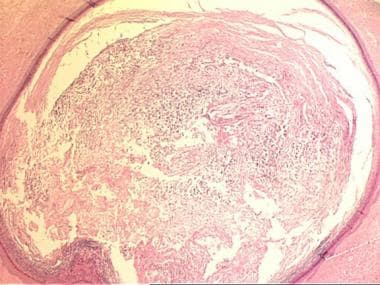 Cyst containing keratinous material (hematoxylin and eosin, original magnification X1.6).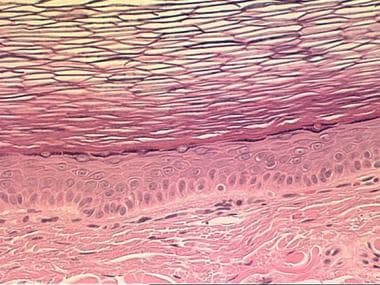 Higher-magnification view of the cyst wall of the cyst in Media File 3 demonstrates a true epidermis with a granular layer and adjacent laminated keratinous material (hematoxylin and eosin, original magnification X20).
What would you like to print?