Presentation
History
Patients with Ledderhose disease have a range of presentations that can span from unawareness of their condition owing to lack of pain to painful nodules that impair proper ambulation. [7]
Likewise, patients with other forms of plantar fibromatosis may not be aware of their disease; however, they may notice difficulty in standing, walking, or wearing shoes when nodules or bumps become large enough.
Ledderhose disease is typically bilateral and progresses slowly but not indefinitely.
Superficial plantar fibromatosis may grow gradually, and, in most cases, self-involution occurs. In some cases, superficial plantar fibromatosis lesions enlarge and persist; if excised, they recur iteratively.
Juvenile aponeurotic fibroma can spontaneously regress or persist. Recurrences after excision are common.
Physical Examination
Ledderhose disease consists of one or more small, asymptomatic, round or flattened, hard nodules that are generally located on the medial side of the sole. Flexion deformities usually do not occur in opposition to Dupuytren contracture.
Superficial plantar fibromatosis appears as one or more asymptomatic, bad limited, flat nodules of fibrous consistency and variable size. They are most commonly located on the plantar aspect of the anteromedial portion of the heel pad (see the image below).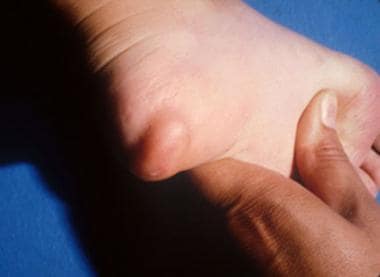 Superficial fibromatosis of the heel.
Juvenile aponeurotic fibroma may appear as a localized form affecting adults or a diffuse variety observed in children. It is more common in males than in females, and the hard nodules grow slowly and adhere to deep structures (see the image below).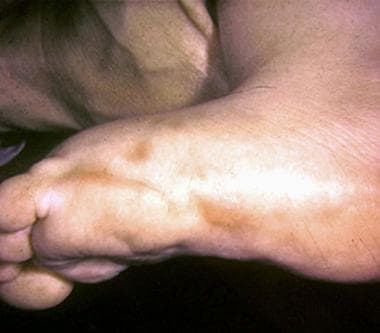 Juvenile aponeurotic fibroma.
Aggressive infantile fibromatosis is rare and ordinarily begins in the patient's first year of life. It grows rapidly and infiltrates the subcutaneous tissue, aponeurosis, and muscles with an expansive or infiltrative course like a fibrosarcoma. However, metastasis does not occur.
Hamartomatous plantar fibromatosis lesions look like raised cerebriform soft-to-firm exophytic masses on any plantar area, where they are covered by pink, lightly dark, or normal-colored skin (see the image below). They can become large enough to cause disability.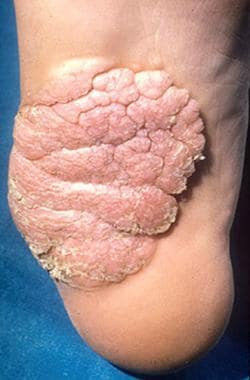 Hamartomatous fibromatosis.
In patients with Ledderhose disease, the presence of other fibrosing conditions (eg, Dupuytren contracture, knuckle pads, Peyronie disease in men) must be checked.
In superficial plantar fibromatosis, Gardner syndrome must be ruled out.
In the presence of cerebriform fibrous exophytic plantar lesions, Proteus syndrome must be considered.
What would you like to print?