Presentation
Physical Examination
A variable number of black, brown, or red-brown macules and papules are seen within a patch of tan-to-brown hyperpigmentation. The background pigmented macule or patch is usually 3-6 cm in diameter, but the diameter may vary from 1 cm to more than 60 cm.
See the image below.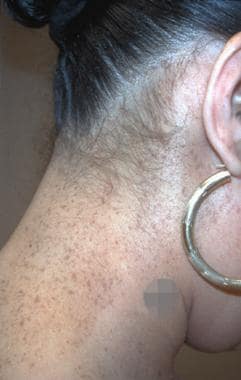 A large unilateral speckled lentiginous nevus that contains numerous small dark macules.
The lesions are usually oval, but they can be linear. Some follow the lines of Blaschko or have a sharp demarcation at the midline. An extensive amount of body surface area may be involved.
See the image below.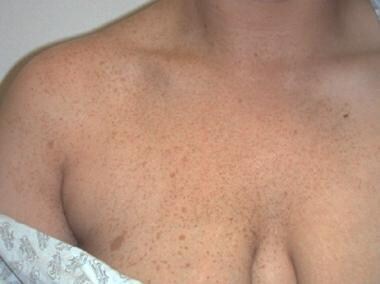 Extensive speckled lentiginous nevus.
The macules (speckles) and papules lying within the background patch range from lentigines to junctional, compound, or dermal nevi. Spitz nevi and blue nevi may also occur. The speckles range from 1-9 mm; most commonly, they are 2-3 mm in diameter. To the author's knowledge, deep penetrating nevus occurring within a speckled lentiginous nevus has not been reported.
What would you like to print?