Presentation
History
Bullous disease of diabetes (bullosis diabeticorum) blisters occur spontaneously and abruptly, often overnight, and usually without known antecedent trauma. Most frequently, it is observed as a unilateral lesion involving the foot or leg, although bilateral lesions as well as multiple lesions have been reported; other regions such as the trunk, arms, and hands can be affected. [2] The tense blisters are usually large and asymmetrical in shape and filled with clear fluids, but hemorrhagic blisters have been reported. [18] Blisters tend to be asymptomatic, although mild discomfort or burning has been described at onset. [2] Bullous disease of diabetes blisters heal spontaneously within 2-6 weeks of onset. [1] During the healing process, the fluid leaks, leaving a darkened crust over the affected area that dissolves over time. [2]
Physical Examination
The goals of the physical examination should include determining the location and physical characteristics of lesions, developing a useful differential diagnosis, and determining the need for biopsy to secure a correct diagnosis and for culture to identify secondary infections that may require treatment.
Common findings of bullous disease of diabetes (bullosis diabeticorum) include tense, nontender blisters arising on nonerythematous skin (see the image below).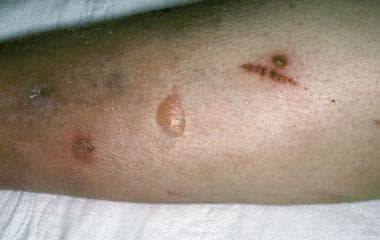 Tense noninflammatory bulla on the leg.
Blisters tend to be large (from 0.5-17 cm in diameter), often with an irregular shape, simulating a burn. Some blisters may also be flaccid. Although blisters typically occur on the feet or lower legs, they also may occur on fingers, toes, hands, and arms. (See the image below.)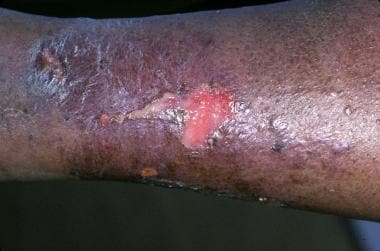 Unroofed blister on the leg. Note the irregular shape.
Rarely, nonacral sites (eg, trunk) may be involved.
See Diabetic Ulcers for more information.
What would you like to print?