Workup
Approach Considerations
The clinical workup of bullous disease of diabetes (bullosis diabeticorum) is fairly straightforward. Approaches range from culture to skin biopsy in order to more clearly differentiate the condition from other clinically similar conditions and identify secondary infections that might require treatment.
Cultures are only warranted if secondary bacterial infections are suspected. If bullous disease of diabetes blister fluid is cloudy instead of clear, the clinician should consider excluding secondary bacterial infection with culture of the blister fluid.
Should a patient present with prominent involvement of the dorsal hands, evaluation of porphyrin levels is warranted. Levels are normal in persons with bullous disease of diabetes. Elevated levels indicate porphyria cutanea tarda or another blistering porphyria. Individuals with end-stage renal disease may have mildly elevated plasma porphyrin levels, possibly contributing to the total pathogenesis of blister formation.
Immunofluorescence
No primary immunologic abnormality is noted in bullous disease of diabetes. Although nonspecific capillary-associated immunoglobulin M and C3 and IgG deposition in superficial capillary basement membrane have been reported, albeit rarely, [11, 16] immunofluorescence findings have not been consistently reproduced by others, and direct immunofluorescence findings are usually negative. [22] However, immunofluorescence studies may be required to exclude clinically similar conditions (eg, bullous pemphigoid, epidermolysis bullosa acquisita, porphyrias) that typically show deposition of C3 and IgG along the basement membrane zone.
Skin Biopsy and Histologic Findings
Shave biopsy or excisional/incisional biopsy can help distinguish bullous disease of diabetes from clinically similar conditions. For routine histologic sections, the clinician should include the blister and portions of the underlying dermis in the biopsy specimen and submit it in formalin.
Histologic features of bullous disease of diabetes are not entirely specific; lesions have a heterogeneous histologic presentation. Many of the reported cases describe a separation in the superficial epidermis within the superficial part of the spinous layer.
The blister plane may also appear in a subcorneal, intraepidermal, or subepidermal location; electron microscopy of fresh blisters has revealed separation in a subepidermal location, residing in the lamina lucida or the sublamina densa. [15] Anchoring fibrils and hemidesmosomes are reported absent or decreased in early blisters (see the image below).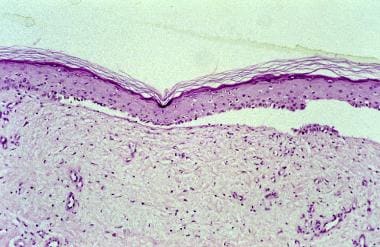 Bullous disease of diabetes (bullosis diabeticorum). Histology of bullosis diabeticorum showing a noninflammatory blister with a subepidermal and focally intraepidermal separation (hematoxylin and eosin stain).
Note that the variable blister plane may be related to the blister age, because reepithelialization can occur within days of blister onset. The blister cavity contains sterile proteinaceous fluid; an inflammatory component is absent or insignificant.
Surrounding epidermis does not show significant change; however, rare reports describe associated spongiosis and degenerative keratinocytic pallor. Acantholysis is absent. Dermal changes (eg, capillary wall thickening, dermal sclerosis) may reflect the patient's underlying diabetes mellitus (see the image below). Caterpillar bodies typical of porphyria have been reported in lesions of bullous disease of diabetes.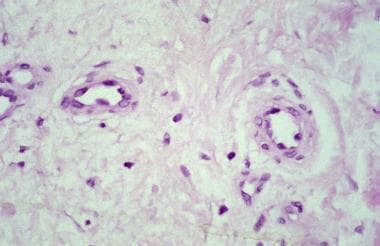 Bullous disease of diabetes (bullosis diabeticorum). High-power view of the dermis beneath the blister showing capillary wall thickening (hematoxylin and eosin stain).
What would you like to print?