Presentation
History
Patients typically present with a waxing and waning pruritic eruption on the extensor surfaces of the arms, knees, and buttocks. It may become generalized. Small vesicles may have been noted but have often been excoriated by the time of presentation to the physician. They may have associated worsening of disease with dietary intake of gluten. Many do not report any GI symptoms, even when prompted.
Physical Examination
The diagnosis is suspected based on the distribution of the eruption.
Flesh-colored–to–erythematous excoriated papules or plaques with herpetiform (ie, small, clustered) vesicles are symmetrically distributed over extensor surfaces, including the elbows, knees, buttocks, and shoulders.
Dermatitis herpetiformis rarely occurs on the posterior (nuchal) scalp and face. Lesions occur infrequently on the oral mucosa, but males are more likely than females to have involvement of the oral and genital membranes. Palms and soles are spared. Digital purpura resembling vasculitis can occur. Erythematous papules and urticarialike plaques occur less frequently; bullae are rare.
The eruption is intensely pruritic; patients often present with erosions and crusts in the absence of vesicles, which have ruptured due to excoriation.
Typical symptoms include burning, stinging, and intense itching. Rarely, if ever, are patients totally asymptomatic, although the degree of itching varies.
Dermatitis herpetiformis is a lifelong disease, although periods of exacerbation and remission are common.
See the image below.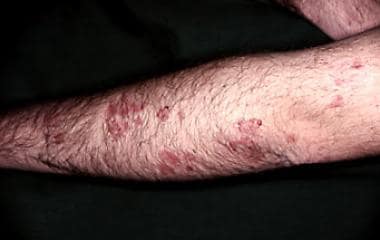 Polymorphic lesions on extensor surface of arm.
Complications
Complications are related to the gluten-sensitive enteropathy, the risk of developing lymphomas, and the potential adverse effects of medications, particularly dapsone.
What would you like to print?