Presentation
History
Pemphigoid gestationis classically manifests during late pregnancy with an abrupt onset of extremely pruritic urticarial papules and blisters on the abdomen and trunk. Unrelenting pruritus often interferes with daily activities.
Lesions most commonly develop during the second and third trimesters; however, they may appear any time during pregnancy. Dramatic flares often occur at or immediately after delivery, and may fully onset within hours. Symptoms usually abate by the end of pregnancy or resolve spontaneously within weeks to months after delivery, although the persistence of disease activity for years postpartum has been reported. In subsequent pregnancies, pemphigoid gestationis is very likely to recur and tends to present earlier and more intensely. Additionally, pemphigoid gestationis may recur with the resumption of menses or with the use of oral contraception. [2, 15, 16]
Physical Examination
The initial clinical manifestation is erythematous, urticarial patches and plaques, classically located on the periumbilical abdomen. This is distinct from the presentation of polymorphic eruption of pregnancy (formerly called pruritic urticarial papules and plaques of pregnancy), which spares the umbilicus. These hivelike plaques differ from true urticaria because of their relatively fixed nature. Lesions typically progress to clustered vesicles and tense bullae (see the images below), which may spread peripherally, sparing only the mucous membranes. [2, 13, 17]
Urticarial plaques, as shown in the image below, are typically the first dermatologic manifestation of pemphigoid gestationis.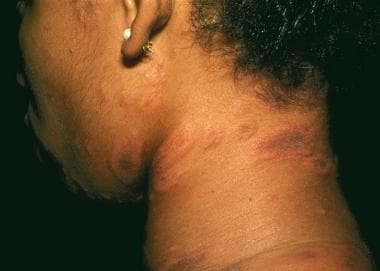 Urticarial or hivelike plaques, as seen on the posterolateral neck of this woman in her third trimester, can be observed in patients with pemphigoid gestationis.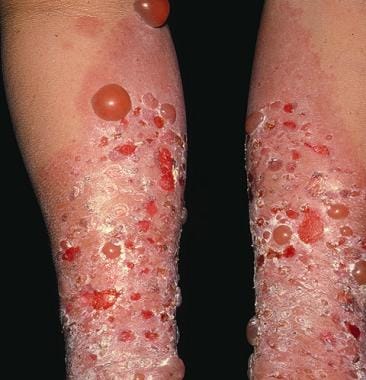 Tense bullae are present on the arms of this otherwise healthy 32-year-old primigravida woman.
What would you like to print?