Workup
Laboratory Studies
Routine laboratory studies are not helpful in diagnosing pemphigoid gestationis. The results of most hematologic studies are within normal limits, although peripheral eosinophilia is seen in some cases. [10] Laboratory values that may be elevated include immunoglobulin levels, erythrocyte sedimentation rates, acute-phase reactant levels, and antithyroid antibodies.
The criteria for the diagnosis of pemphigoid gestationis include an appropriate clinical presentation, histologic findings of a subepidermal blistering process (as described below), and direct immunofluorescence (DIF) showing a linear band of C3 deposition with or without immunoglobulin G (present in 25-50% of patients [11] ) along the basement membrane. DIF is the key assay to differentiate pemphigoid gestationis (positive DIF) from pruritic urticarial papules and plaques of pregnancy (negative DIF). However, a similar pattern of DIF is observed in patients with pemphigoid gestationis, BP, and epidermolysis bullosa acquisita (EBA). DIF should be performed using samples from uninvolved perilesional skin.
Indirect immunofluorescence (IIF) testing of the patient's serum can be used to detect circulating immunoglobulin G1 antibodies for the basement membrane zone. [12] In 2004, Sitaru et al [13] demonstrated that immunoblotting and enzyme-linked immunosorbent assay testing are sensitive tools for the detection of autoantibodies to BP180 antigen in patients with pemphigoid gestationis and that enzyme-linked immunosorbent assay is useful to monitor autoantibody serum levels, which correlate to disease activity.
In 2013, Kwon et al [14] described an immunohistochemistry assay to detect C4d at the dermoepidermal junction in formalin-fixed, paraffin-embedded tissue. Visualization of C4d, an activation product of the classical complement pathway, at the dermoepidermal junction is specific for pemphigoid gestationis relative to other dermatoses of pregnancy, particularly pruritic urticarial papules and plaques of pregnancy. The advantage of this technique is that it allows for a single skin biopsy to serve the purposes of both histopathological examination and immunohistochemistry.
HLA-DR3/DR4 is present in 45% of patients with pemphigoid gestationis, as compared with 3% of the general population.
Histologic Findings
Biopsy samples from the edge of an early blister classically reveal a subepidermal blister with an eosinophil-predominant infiltrate. The inflammatory infiltrate is localized to the dermoepidermal junction and perivascular areas (see image below).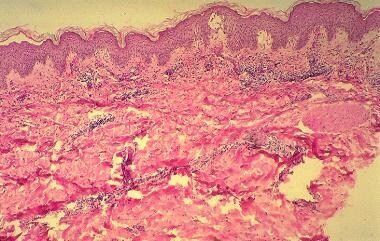 Upon histologic evaluation, an incipient blister is present at the junction of the epidermis and dermis, as is a moderately dense perivascular inflammatory infiltrate.
Keratinocyte necrosis and dermal edema are often present. These histologic features can also be observed in association with other autoimmune subepidermal blistering diseases, including BP and EBA (inflammatory type), cicatricial pemphigoid, and linear immunoglobulin A bullous dermatosis.
The salt-split technique demonstrates antibody deposition along the base of the epidermal fragment. IIF reveals a similar localization in patients with BP, whereas patients with EBA have circulating autoantibodies that bind to the blister floor.
What would you like to print?