Workup
Laboratory Studies
Direct immunofluorescence study of both perilesional skin and healthy skin typically shows linear deposition of IgA at the BMZ. Linear deposition of C3 may also be seen. Direct immunofluorescence study of salt-split skin reveals IgA deposition on either the dermal side (blister floor) or the epidermal side (blister roof). Some patients demonstrate both linear IgA deposition and immunoglobulin G (IgG) deposition at the BMZ. Immunoglobulin M (IgM) deposition has rarely been reported.
Serum should be obtained for indirect immunofluorescence studies. Approximately 50% of patients with linear IgA dermatosis have detectable circulating antibody that binds to the BMZ. Sensitivity is greater for immunofluorescence studies performed on salt-split healthy human skin. Circulating antibody titers are typically low (1:10 to 1:20). When present, linear deposition of antibody is observed at the BMZ or at the blister roof or floor in salt-split skin. Children with linear IgA dermatosis may demonstrate circulating anti-BMZ antibodies more frequently than adults.
Immunohistochemical staining of laminin 332 and collagen IV along the floor of bullae can aid in the diagnosis, although the finding is nonspecific and can be seen in other bullous dermatoses where the schism lies above the lamina densa. [25]
In patients with atypical presentations, additional testing, including bacterial culture and Gram stain of blister fluid to rule out bullous impetigo and Tzanck smear to rule out herpes virus infection, may be helpful.
Histologic Findings
Early urticarial papules or plaques reveal neutrophils aligned along the BMZ accompanied by vacuolar change. Neutrophilic microabscesses may be seen in dermal papillae (see the image below).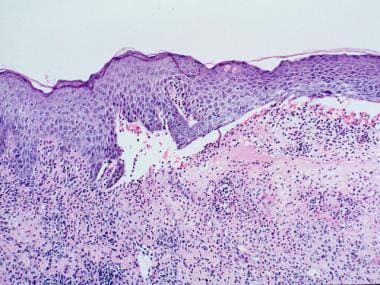 Neutrophilic microabscesses in linear immunoglobulin A (IgA) dermatosis.
Fully developed lesions reveal subepidermal blistering with a predominantly polymorphonuclear infiltrate, although mononuclear cells and eosinophils may be present. Obtaining a frozen section of a blister roof may be helpful in some patients to rule out full-thickness epidermal necrosis as seen in toxic epidermal necrolysis.
Other Tests
In cases of suspected drug-induced disease, a lymphocyte-stimulation test has been reported successful in identifying ampicillin/sulbactam as the causative agent. [26] However, access issues with this test may limit its utility in clinical practice.
What would you like to print?