Overview
Background
The various types of pemphigus include pemphigus erythematosus, pemphigoid, pemphigus vegetans, pemphigus vulgaris, and pemphigus foliaceus.
Pemphigus erythematosus, also known as Senear-Usher syndrome, is an overlap syndrome with features of lupus erythematosus (LE) and pemphigus foliaceus. Pemphigus is demonstrated by acantholysis and immunoglobulin deposits in the interkeratinocyte substance (see the image below).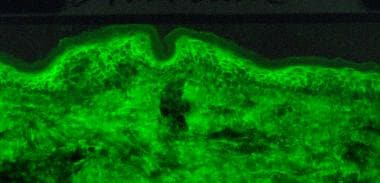 Direct immunofluorescence microscopy performed on epithelial biopsy specimen obtained from a patient with pemphigus vulgaris detects immunoglobulin G deposits at the epithelial cell surfaces.
Pérez-Pérez et al recently hypothesized that pemphigus erythematosus is a multiple autoimmune disease. [1]
High doses of UV light are suggested to be the cause of cleavage of the desmoglein-1 ectodomain. As in cases of pemphigus foliaceus the circulating anti–desmoglein-1 antibodies precipitate this cleaved off ectodomain along with the basement membrane zone, resulting in a lupus band–like appearance.
The lupus component of pemphigus erythematosus is demonstrated by circulating antinuclear antibodies (ANA) and sometimes by immunoglobulin and complement deposits at the dermoepidermal junction
For a thorough description and introduction to the possible causes of pemphigus, see the article "Pemphigus: An Acronym for a Disease with Multiple Causes ", published by the International Pemphigus Society. [2]
Pathophysiology
Patients with pemphigus erythematosus present with vesiculobullae or superficially eroded lesions, which may ooze and crust, particularly in sun-exposed areas, such as the face, the upper part of the chest, and the back.
Epidemiology
Frequency
The incidence of pemphigus is 0.5-3.2 cases per 100,000 population per year. Patients with pemphigus erythematosus comprise only a small subgroup of those with pemphigus. Kumar from India, in a 2008 article, reported a high prevalence (4.4 cases per million population). [3]
Race
Pemphigus erythematosus, like other variants of pemphigus erythematosus and LE, may be increased in patients who express specific human leukocyte antigen (HLA) haplotypes. Those identified to have pemphigus erythematosus are positive for human leukocyte antigen A10 (HLA-A10) or human leukocyte antigen A26 (HLA-A26) and human leukocyte antigen DRW6 (HLA-DRW6).
Sex
Reports generally find no difference in occurrence of pemphigus erythematosus between the 2 sexes.
Age
Pemphigus erythematosus may occur at any age, but it is unusual in children.
What would you like to print?