Workup
Laboratory Studies
To establish a diagnosis of pemphigus vulgaris, perform the following tests:
Histopathology from the edge of a blister

Direct immunofluorescence (DIF) on normal-appearing perilesional skin [7]

Indirect immunofluorescence (IDIF) using the patient's serum if DIF results are positive: The preferred substrate for IDIF is monkey esophagus or salt-split normal human skin substrate.
DIF demonstrates in vivo deposits of antibodies and other immunoreactants, such as complement. DIF usually shows immunoglobulin G (IgG) deposited on the surface of the keratinocytes in and around lesions. IgG1 and IgG4 are the most common subclasses. Complement components such as C3 and immunoglobulin M are present less frequently than IgG. DIF shows intercellular deposition throughout the epidermis. This pattern of immunoreactants is not specific for pemphigus vulgaris and may be seen in pemphigus vegetans, pemphigus foliaceus, and pemphigus erythematosus. The best location for DIF testing is on normal perilesional skin. When DIF testing is performed on lesional skin, false-positive results can be observed. DIF results are shown in the image below.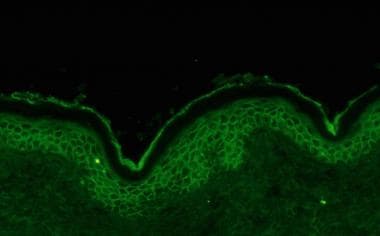 Direct immunofluorescence showing intercellular immunoglobulin G throughout the epidermis of a patient with pemphigus vulgaris.
Skin biopsy specimens placed in transport media may yield false-negative results; therefore, fresh tissue is the preferred substrate for DIF studies.
In the patient's serum, IDIF demonstrates the presence of circulating IgG autoantibodies that bind to epidermis. Circulating intercellular antibodies are detected using IDIF in 80-90% of patients with pemphigus vulgaris. The titer of circulating antibody correlates with disease course. [37]
Histologic Findings
Histopathology demonstrates an intraepidermal blister. The earliest changes consist of intercellular edema with loss of intercellular attachments in the basal layer. Suprabasal epidermal cells separate from the basal cells to form clefts and blisters. Basal cells are separated from one another and stand like a row of tombstones on the floor of the blister, but they remain attached to the basement membrane. Blister cells contain some acantholytic cells. Histopathology can help differentiate pemphigus vulgaris from pemphigus foliaceous, which demonstrates a more superficial epidermal cleavage.
Tzanck preparation is a smear taken from the base of a blister or an oral erosion that contains acantholytic cells. Blistering is preceded by eosinophilic spongiosis in some patients. The superficial dermis has a mild, superficial, mixed inflammatory infiltrate, which includes some eosinophils.
What would you like to print?