Workup
Laboratory Studies
The evaluation of patients suspected of having paraneoplastic pemphigus includes obtaining samples by skin biopsy for routine microscopy and direct immunofluorescence (DIF) testing (see image below), followed by more sophisticated testing when indicated.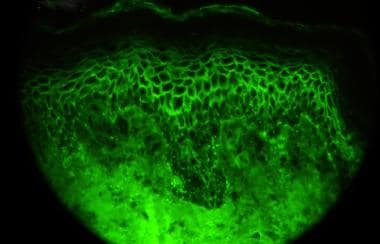 Direct immunofluorescence microscopy performed on epithelial biopsy specimen obtained from a patient with pemphigus vulgaris detects immunoglobulin G deposits at the epithelial cell surfaces.
If the histologic features and DIF results suggest the diagnosis, serum should be sent for indirect immunofluorescence (IDIF) testing. The choice of substrate for the IDIF is important because different substrates express different antigens. Rat bladder is the substrate of choice, and monkey esophagus is also more sensitive than human skin. If IDIF results are negative, additional assays should be performed. [42] A case of paraneoplastic pemphigus in which the DIF and IDIF results were negative initially and became positive after 6-14 weeks, respectively, has been reported. [13]
Immunoprecipitation, immunoblotting and enzyme-link immunosorbent assay (ELISA) are sensitive assays that are very helpful in confirming the diagnosis of paraneoplastic pemphigus. Several new assays have been described [43, 44, 45] ; however, commercial availability is variable, and they may only be obtainable at research laboratories.
Once the diagnosis of paraneoplastic pemphigus is established, further evaluation for malignancy may be necessary.
Other Tests
DIF testing
Skin biopsy samples for DIF testing should be taken from noninvolved, perilesional skin. IgG, with or without complement, binds in an intercellular pattern within the epidermis. Immunoglobulin A (IgA) and immunoglobulin M (IgM) also may be detected. Staining can be diffuse or focal. Positive findings limited to adnexal structures have been described. [46]
Some patients have granular or linear deposition of complement, IgG, and/or IgM along the dermoepidermal junction. The combination of intercellular and subepidermal deposition of immunoreactants is a clue to the diagnosis of paraneoplastic pemphigus.
IDIF testing
IDIF testing is performed by using sera obtained from patients suspected of having paraneoplastic pemphigus and is a good screening test for this disease. Patients with high-titer antibodies exhibit both intercellular intraepidermal antibody deposition and deposition along the dermoepidermal junction. Patients with low titers only exhibit deposition intercellularly in a pattern identical to that of pemphigus vulgaris.
Because circulating antibodies that bind to the cell surface of stratified squamous epithelia are common to all forms of pemphigus, other substrates, such as rodent bladder, can be useful in distinguishing paraneoplastic pemphigus from pemphigus vulgaris or pemphigus foliaceus. Binding to rat bladder transitional epithelium is specific for circulating autoantibodies from patients with paraneoplastic pemphigus, with a specificity of 83%; [42] sensitivity ranges from 75-86% depending on the study.
Immunoprecipitation and immunoblotting
A 2013 study found that immunoprecipitation for antibodies against envoplakin and periplakin or alpha2-macroglobulin-like–1 is the most sensitive test for paraneoplastic pemphigus, although the latter can also be seen in toxic epidermal necrosis. Because this test is not always readily available, the authors also suggest that the combination of IDIF on rat bladder and immunoblotting may be easier and have similar sensitivity and specificity. [18]
Sensitivity and specificity
A 2013 study on 19 paraneoplastic pemphigus patients revealed the following sensitivities [18] :
100% and 95% - Radioactive and nonradioactive immunoprecipitation, respectively

74% - IDIF on rat bladder

63% - ELISA for envoplakin
Specificity ranged from 86-100%.
Histologic Findings
Vesicular lesions express the most characteristic histopathologic features. Oral and cutaneous lesions show variable epidermal necrosis, suprabasal acantholysis, dyskeratotic keratinocytes, vacuolar interface dermatitis, and lymphocytic exocytosis. Substantial inflammation can be present, even in early lesions.
While oral mucosal lesions show the greatest acantholysis, biopsy specimens of severe stomatitis may reveal only ulceration. Some skin lesions lack any acantholysis. When present, suprabasal acantholysis can result in clefts and tombstoning, which is the appearance of the basal cell layer below the cleft, and histologic findings can be indistinguishable from pemphigus vulgaris.
A distinctive feature of paraneoplastic pemphigus is dyskeratosis. Dyskeratosis is a constant feature, but the number of dyskeratotic keratinocytes is variable. Dyskeratotic keratinocytes are found at all levels in the epidermis, especially within the zones of acantholysis, and they can be found in cutaneous adnexa. The presence of dyskeratosis in a person with a suprabasal acantholytic bullous disorder is a clue to the presence of paraneoplastic pemphigus.
Interface dermatitis is a frequent finding in persons with paraneoplastic pemphigus, and it can be found both with and without acantholysis. Exocytosis of inflammatory cells into the epidermis is common, and the amount and degree are directly proportional to the degree of dyskeratosis. Satellite cell necrosis (a lymphocyte adjacent to a necrotic keratinocyte) can occur. Lesions showing marked vacuolar alteration are accompanied by melanophages in the papillary dermis.
Dermal changes include a superficial perivascular infiltrate of variable intensity, which is mostly composed of lymphocytes. As in the oral mucosa, the pattern of cutaneous inflammation can be lichenoid, leading to a misdiagnosis of lichen planus. [47] Papillary dermal edema is present in early lesions, whereas older lesions may exhibit mild dermal fibrosis.
What would you like to print?