Presentation
History
Bullous systemic lupus erythematosus is characterized by the rapid development of a widespread vesiculobullous eruption. The blistering activity does not necessarily correlate with that of the patient's lupus erythematosus–specific skin or systemic disease, but parallel exacerbations (often involving lupus nephritis) have been described. Bullous systemic lupus erythematosus occasionally represents the initial clinical manifestation of systemic lupus erythematosus in both children and adults. [26]
Bullous systemic lupus erythematosus may be accompanied by pruritus of variable intensity. Mucosal lesions are often painful. Patients can exhibit any of the symptoms associated with systemic lupus erythematosus. These can include the following:
Manifestations of renal, pulmonary, cardiac, and/or central nervous system disease [25]
Patients with toxic epidermal necrolysis–like acute cutaneous lupus erythematosus often have significant systemic disease activity (eg, lupus nephritis or cerebritis).
See also Systemic Lupus Erythematosus and Neurologic Manifestations of Systemic Lupus Erythematosus.
Physical Examination
Extracutaneous findings of systemic lupus erythematosus may include joint tenderness and swelling, pallor or petechiae (reflecting hematologic abnormalities), and auscultation evidence of a pulmonary or pericardial effusion.
Morphology of bullous systemic lupus erythematosus skin lesions
Blisters range from large, tense bullae (resembling bullous pemphigoid) to small, grouped vesicles (resembling dermatitis herpetiformis). They often arise on erythematous skin and may be preceded by urticarial papules and plaques. An annular or figurate configuration is occasionally observed. Bullae contain clear or hemorrhagic fluid. Rupture results in erosions and crusts, which typically heal with postinflammatory hyperpigmentation or hypopigmentation. (See the image below.)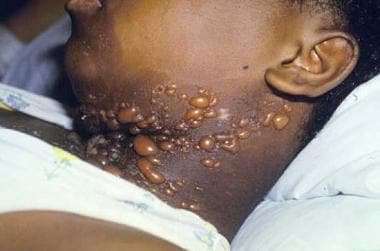 Tense vesiculobullous lesions on the neck of a patient with bullous systemic lupus erythematosus.
Although bullous systemic lupus erythematosus was initially defined as a nonscarring bullous disease, a mechanobullous presentation resembling classic epidermolysis bullosa acquisita has been reported. In such patients, vesicles and bullae arise within noninflamed skin of trauma-prone sites (reflecting skin fragility) and heal with milia and scarring.
Distribution of bullous systemic lupus erythematosus
Bullous systemic lupus erythematosus frequently manifests in a widespread, symmetrical distribution of skin lesions. The eruption favors the upper part of the trunk, proximal upper extremities (flexural and extensor aspects), neck, and face, but blisters can occur anywhere on the cutaneous surface. Usually, no clear association exists between sun exposure and the development of lesions, which involve sun-protected and sun-exposed sites. Blisters and erosions can also affect the oral, pharyngeal, nasal, and vulvar mucous membranes.
Lesions of classic epidermolysis bullosa acquisita–like bullous systemic lupus erythematosus are localized to trauma-prone areas, such as the dorsal hands, feet, elbows, and knees.
Lupus erythematosus–specific vesiculobullous skin disease
These vesiculobullous lesions are distinct from those of bullous systemic lupus erythematosus, representing severe variants of acute, subacute, or (rarely) discoid cutaneous lupus erythematosus. The eruptions can develop rapidly or evolve over several weeks.
In toxic epidermal necrolysis–like acute cutaneous lupus erythematosus, photodistributed diffuse or patchy erythema evolves (usually rapidly) into flaccid bullae (positive Nikolsky sign, unlike bullous systemic lupus erythematosus) and widespread, sheetlike, full-thickness epidermal detachment.
Toxic epidermal necrolysis–like subacute cutaneous lupus erythematosus manifests as widespread blistering and full-thickness epidermal detachment in the context of preexisting photodistributed annular or papulosquamous skin lesions and anti-Ro/SS-1 and/or anti-La/SS-2 antibody production. Involvement of the oral, conjunctival, and genital mucosae occurs in some cases of toxic epidermal necrolysis–like lupus erythematosus.
Erythema multiforme–like lesions occurring in the context of acute, subacute, or (as initially described by Rowell and colleagues in 1963) discoid cutaneous lupus erythematosus have been referred to as Rowell syndrome. The development of these targetoid erythematous plaques with central (or, in the setting of subacute cutaneous lupus erythematosus, peripheral) blistering and erosions is thought to represent a limited form of toxic epidermal necrolysis–like lupus erythematosus. Mucosal involvement is often observed. [28, 29, 30]
Some authors [31] identify Rowell syndrome as a rare but distinct clinical entity with specific diagnostic criteria. The diagnosis of Rowell syndrome requires the presence of all redefined major criteria and at least 1 of the minor criteria. Major criteria include the coexistence of lupus erythematous, erythema multiforme–like lesions, and a speckled pattern of antinuclear antibodies. Minor criteria include chilblains, positive anti-Ro (SS-A) or anti-La (SS-B) antibodies, and a reactive rheumatoid factor.
Vesicles or erosions at the advancing edge of active annular subacute lupus erythematosus lesions represent a relatively common observation.
Other mucocutaneous findings
Specific cutaneous lesions of acute, subacute, and chronic (discoid) cutaneous lupus are observed in a minority of patients with bullous systemic lupus erythematosus. (See also Acute Lupus Erythematosus, Subacute Cutaneous Lupus Erythematosus, and Discoid Lupus Erythematosus.)
Nonspecific cutaneous findings of lupus erythematosus, such as periungual telangiectasias, livedo reticularis, and nonscarring alopecia, also may be present. Chilblain lupus can occur in association with Rowell syndrome.
What would you like to print?