Presentation
History
Systemic sclerosis can have many different presentations. It involves the skin and many internal organs. Therefore, the presenting symptoms may differ among patients.
Cutaneous pruritus is common.
Raynaud phenomenon, or whitening of the hands on exposure to cold, is a common finding. Pain in the affected digits, blanching, cyanosis, and hyperemia can follow.
Difficulty in swallowing solid foods can be followed by difficulty with swallowing liquids and subsequent nausea, vomiting, weight loss, abdominal cramps, blotting diarrhea, and fecal incontinence.
The patient can have shortness of breath on exertion and, subsequently, at rest. Palpitations may occur without characteristic pain in thoracic cavity. The patient may have a nonproductive cough. Atypical chest pain, fatigue, dyspnea, and hypertension may be present.
Joint pain, limitation of movement, joint swelling, and muscle pain may be present. Systemic sclerosis begins as joint pain in 15% of patients. It begins as inflammatory myopathy in 10% of patients. Weakness is present in 80% of patients.
Medical signs and symptoms associated with disability, pain, and psychosocial adjustment in systemic sclerosis were assessed. [18] In one study, 114 patients underwent examination, including a determination of skin thickening. Signs and symptoms were a significant correlate of all outcomes. Patient-reported dependent edema significantly correlated with all outcomes. For disability, significant correlates were (1) physician-determined joint tenderness and number of tender points and (2) patient-reported joint pain with motion, joint contracture, extremity ulcers other than digital, and dyspnea. Avascular areas in capillaroscopy, elevation of Health Assessment Questionnaire-Disability Index (HAQ-DI) score, and anti-Scl-70 antibodies were independent factors associated with digital ulcers in a survey of 70 Brazilian systemic sclerosis patients. [19]
Physical Examination
According to the American College of Rheumatology (ACR), features characteristic for scleroderma are divided into the following 2 groups (systemic sclerosis is diagnosed when a patient has 1 major and 2 minor criteria.):
Major features include centrally located skin sclerosis that affects the arms, face, and/or neck.

Minor features include sclerodactyly, erosions, atrophia of the fingertips, and bilateral lung fibrosis.
Cutaneous involvement has 3 phases: (1) edematous, (2) indurative, and (3) atrophic. Skin becomes thickened and tight. Note the images below.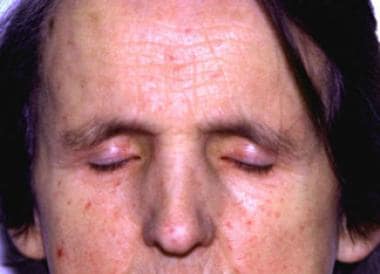 Face of 65-year old woman with systemic sclerosis and skin thickening of 20 years' duration: Note the pinched nose, taut skin with numerous telangiectasias, and retraction of the lips.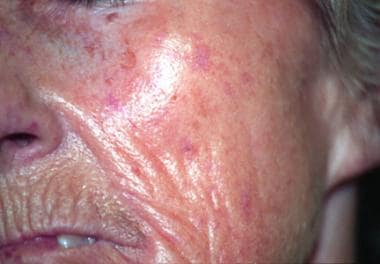 Telangiectasias affecting the face: They are pronounced and numerous, especially in the atrophic phase of the disease. Radical furrowing around the mouth is also characteristic in the later stage of the disease.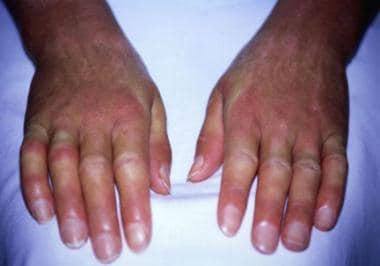 Puffy appearance of the woman's hand in the edematous phase of early scleroderma.
Systemic sclerosis is divided into 5 forms: (1) dSSc, (2) lSSc, (3) transitory form (dSSc/lSSc), (4) systemic scleroderma sine scleroderma, and (5) malignant scleroderma. The principal forms are dSSc and lSSc. In addition to the features noted below, dSSc is characterized by Raynaud phenomenon that precedes the development of skin changes by approximately 1 year. Raynaud phenomenon occurs in almost all patients with systemic sclerosis, often as the earliest clinical sign. [20] Note the following:
Generalized skin fibrosis of the chest and limbs

Areas of skin hyperpigmentation and hypopigmentation (see image below)

In systemic sclerosis, skin hyperpigmentation of the lower legs is surrounded by areas of hypopigmentation. The result is a salt-and-pepper appearance.

Early involvement of the lungs, kidneys, digestive system, and heart
lSSc is characterized by sclerotic changes of the hands, face, feet, and forearms in addition to the following features (note the images below):
Atrophic changes of the ala nasi and lips, facial amimia

Telangiectasia of the skin

Late involvement of the lungs and late development of pulmonary hypertension

Anticentromere antibodies in approximately 70-80% of patients

Dilated capillary loops in nail folds: Either videocapillaroscopy or dermatoscopy can be used, with capillary dilatation, giant capillaries, and disrupted vascular configuration visualized. [23] Video capillaroscopy can be performed sequentially and may be useful to detect organ progression. [24] Dermatoscopy is efficient enough to delineate the pathognomonic alterations of the nailfold capillary pattern. It should be performed on all fingers except the thumbs. [25]

In systemic sclerosis, ulceration at the tip of the finger is regarded to be secondary to ischemia.

Hand of a woman with scleroderma of several years' duration: The thickened, tight, thin skin over the fingers is the result of self-amputation of the distal phalanx due to ischemia. Moderately severe flexion contractures of the fingers are present.
dSSc and/or lSSc are described in a few cases in which internal organ changes preceded or simultaneously occurred with cutaneous changes.
Systemic scleroderma sine scleroderma is difficult to diagnose because only internal organs are involved. Systemic scleroderma sine scleroderma usually is diagnosed after the patient's death.
Malignant scleroderma most often occurs in men, usually in elderly men. An accelerated course of malignant scleroderma leads to death.
GI involvement can be serious. [28] Upper GI symptoms are generally more prominent than lower GI ones.
Pain is common those with systemic sclerosis and is independently associated with frequent episodes of Raynaud phenomenon, active ulcers, severe synovitis, and GI symptoms. [29]
Complications
Neoplastic diseases may complicate the disease course. Examples include breast carcinoma; multiple myeloma; lymphoma; and cancer of the ovary, esophagus, colon, or rectum.
Female patients should be evaluated for breast cancer. Epidemiologic studies have suggested that patients with scleroderma have an increased risk of cancer. However, large-scale case-control studies are needed to substantiate a possible association between scleroderma—both cutaneous and systemic—and breast cancer. [30]
What would you like to print?