Presentation
History
Usually, patients with mixed connective-tissue disease (MCTD) present with Raynaud phenomenon, which frequently represents the initial manifestation of the disease. [15] The decreasing frequency of attacks limits progressive vascular damage. The course of the entity is often mild, but the clinical appearance and the patient's complaints depend on the symptoms related to the specific forms of the connective-tissue disease most expressed in the individual patient.
During the course of the disease in some patients, the typical signs and symptoms of systemic lupus erythematosus develop and fulfill at least 4 of the American Rheumatism Association (ARA) criteria. In other patients, MCTD becomes systemic sclerosis that spreads to the face, scalp, and trunk, and the fingers become immobile, hard, and shiny.
See the image below.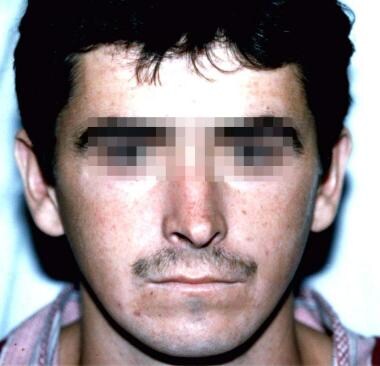 Sclerodermalike changes on the face.
Usually, patients with MCTD present with Raynaud phenomenon. Headaches may occur, and patients may report fatigue. While myalgia and arthralgia are important early symptoms of pediatric-onset MCTD, [16] many adolescent girls report pain along with fatigue. [17] Pediatric MCTD may show findings of arthritis, polymyositis/dermatomyositis, systemic lupus erythematosus, and systemic sclerosis. [18] Raynaud phenomenon should hasten evaluation. Capillary findings should also be evaluated because they may correlate with the development of scleroderma spectrum disorders. Nailfold capillaroscopy is desirable for Raynaud phenomenon, with the appearance of giant capillaries being chronologically the first finding relevant for the scleroderma spectrum. [19]
Physical Examination
Mixed connective-tissue disease (MCTD) findings at physical examination may include the following:
Skin [20]
Raynaud phenomenon, sausage-shaped fingers, and swelling of the dorsa of the hands that never becomes sclerodactyly are the most typical features (see the image below).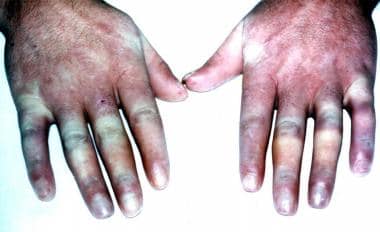 Sausage-shaped fingers in a patient with Raynaud phenomenon.
Another MCTD feature can be "mechanic hands", evident as a thickened, hyperkeratotic, bilaterally symmetric eruptions along the fingers. [21] Nail-fold capillaroscopic findings may be relative common in those with MCTD and mechanic hands.
More than one half of patients have abnormal capillaries in the nail fold.
Small-vessel vasculitis with palpable purpura is present in about 25% of patients. Occasionally, vascular disturbances may be severe and lead to peripheral gangrene and leg ulcers.
Other skin manifestations are not universally expressed. Erythematous plaques similar to those seen in patients with chronic cutaneous (discoid) lupus erythematosus can be seen. Alopecia, facial erythema, periungual telangiectasia, and pigmentary disturbances can also occur. Painful dermal nodules may appear on the hands or elbows.
Calcinosis cutis also may be seen. [22] Cutaneous ulceration due to subcutaneous dystrophic calcification associated with mixed connective-tissue disease (MCTD) may occur. [23]
Eyes
Dry eye, or keratoconjunctivitis sicca, is common with MCTD; Sjögren syndrome is often underdiagnosed in individuals with MCTD. [24]
Joints
About 60% of patients complain of arthralgia.
Arthritis without any visible joint deformation can occur.
Any joint may be involved.
Patients usually complain of morning stiffness.
Patients may be first evident with signs and symptoms of synovitis. [25]
Muscles
Myalgia, myositis, and muscle weakness are common features.
Gastrointestinal tract
Dysphagia and dysfunction of esophageal motility resemble that occurring in systemic sclerosis.
Other abnormalities of the gut include esophagitis, constipation, diarrhea, and malabsorption. [26]
Correlated pulmonary function data and high-resolution CT scan findings of interstitial lung disease in 50 consecutive patients with MCTD suggests but does not prove a strong association between esophageal motor dysfunction and interstitial lung disease. [27]
Lungs
Pleuropulmonary manifestations are common. The incidence varies from 20-85%.
Pleuropulmonary complications include pleural effusion, interstitial pulmonary fibrosis, pulmonary arterial hypertension, pulmonary vasculitis, pulmonary thromboembolic phenomena, aspiration pneumonia, serositis, and hypoventilatory failure.
Interstitial lung disease was identified in juvenile MCTD in one quarter of patients studied by high-resolution CT scanning. [28] In most of them, it was subtle and without clinical correlation.
MCTD interstitial lung disease characteristics are nonspecific but seem to link pulmonary hypertension and progressive interstitial lung disease. [29]
Kidneys
The incidence of renal involvement is only about 5%.
Nephritis is associated with a poor prognosis. In addition to myocarditis, pulmonary hypertension, and widespread vasculitis, nephritis is considered a common cause of death.
Nervous system
Nervous system involvement is rare.
Aseptic meningitis, trigeminal neuropathy, and psychosis are the prominent neurologic features.
Sporadic cases with autonomic neuropathy are described.
An assessment of cognitive functions in patients with MCTD showed cognitive deficits observed in MCTDs were connected with nervous system involvement. [30]
Heart [31]
Cardiac involvement is often clinically insignificant, but the rate varies from 11-85% depending on patient selection and methods used to detect cardiac manifestations. Pericarditis, pulmonary hypertension, mitral valve prolapse, myocarditis, conduction disturbances, and abnormal left ventricular diastolic filling pattern are the most frequently observed problems.
Lymph nodes
Lymph node enlargement is seldom a feature, but it may be present.
What would you like to print?