Presentation
History
The earliest finding of Becker nevus is an asymptomatic irregular tan-to-brown patch, most commonly located over the shoulder, upper chest, or back, as shown in the image below.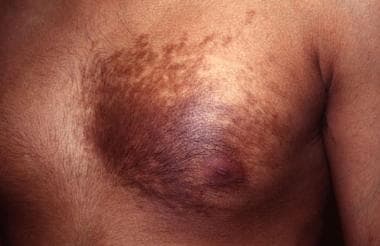 Becker nevus of chest wall with associated hypertrichosis. Courtesy of Jason K. Rivers, MD.
Pigmentation may be subtle, and onset most commonly occurs in the peripubertal period. The patch expands during the first several years as new irregular pigmented macules and patches develop at the periphery and coalesce with the larger patch. This expansion results in a geographic configuration that may cover a large area.
Several months to years after the appearance of pigmentation, thick brown-to-black hairs develop both within and in close proximity to the patch. Hair density is highly variable and occasionally, hypertrichosis does not occur.
The central area in the patch may thicken, and acne vulgaris may develop.
Once present, the patch remains indefinitely, although minimal pigmentary fading may occur in adulthood.
Occasionally, Becker nevus may be associated with smooth muscle hamartoma. Rarely, hypoplasia of underlying structures, such as unilateral breast hypoplasia, has been reported. [4]
Other associations seen with Becker nevus include unilateral or ipsilateral pectoralis major aplasia, ipsilateral limb shortening, ipsilateral foot enlargement, spina bifida, scoliosis, pectus carinatum, localized lipoatrophy, [5] congenital adrenal hyperplasia, [6] polythelia, [7] and accessory scrotum. [8]
Becker nevus is considered a benign process; however, an association with melanoma was discussed in a series of 9 patients in whom both Becker nevus and melanoma developed. In this series, 5 patients developed melanoma on the same body site as the Becker nevus, but in 1 patient only did melanoma develop within the Becker nevus.
Physical Examination
What would you like to print?