Overview
Background
Hypomelanosis of Ito is a pigmentary mosaicism characterized by a clone of skin cells with decreased ability to produce pigment. The clinical pattern is characterized by hypopigmented streaks and whorls running along the lines of Blaschko, characteristically involving more than two body segments. Around one fifth of patients have a patchy presentation without a specific distribution pattern. [1] Various terms have been used to describe this mosaicism, including Blaschkoid dyspigmentation, pigmentary mosaicism of the hypopigmented type, and incontinentia pigmenti achromians. [2]
Ruiz-Maldonado et al established criteria for hypomelanosis of Ito that include nervous system or musculoskeletal anomalies [1] ; however, the strength of these associations has been questioned in other studies. [2] Currently, hypomelanosis of Ito is considered an umbrella term. Some cases may present with isolated cutaneous findings, while a portion have associated systemic anomalies, most commonly of the nervous system. [3] Larger studies are required to provide further evidence to support possible associations with different anomalies.
See the image below.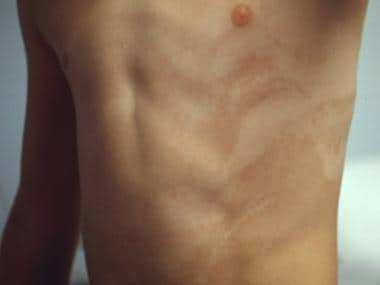 Hypomelanosis of Ito on the torso.
Pathophysiology
The affected areas seen in hypomelanosis of Ito result from postzygotic mutations in a variety of pigmentation-associated genes, resulting in a clone of skin cells with reduced capacity to produce pigment. Structural or numerical chromosomal aberrations present in these clones of cells have been linked with this entity. Around 90% of these chromosomal aberrations are present in the locations of genes involved in pigmentation. [4] Associations of different numerical chromosomal disorders can be found in the literature, such as trisomy of chromosome 2, 13,14, 18, or 20 mosaicisms. [5, 6]
Extracutaneous manifestations might be due to the presence of different genetic defects.
Etiology
Chromosomal mosaicism and sporadic mutations are the causes of hypomelanosis of Ito.
Epidemiology
Frequency
Epidemiological studies in Catania, Italy have estimated a prevalence of 1 case per 7,540 births and 1 in 82,000 within the total population. [7]
Race
No clear racial predilection has been reported for hypomelanosis of Ito.
Sex
Hypomelanosis of Ito is 0.7-2.5 times more common in women than in men. [8]
Age
Hypomelanosis of Ito is present at birth, and patients usually undergo examination in their first or second year of life. Approximately 75% of patients with hypomelanosis of Ito seek care by the time they are aged 2 years. One fourth of patients seek care between ages 2 and 5 years. Skin lesions may become more pigmented over time and blend well with normally pigmented skin.
Prognosis
The prognosis is determined by any associated abnormalities. The prognosis is excellent for the cutaneous findings. Death is rare. Morbidity depends on severity of the associated abnormalities, such as seizures.
Patient Education
Genetic counseling may be recommended. However, the risk of hypomelanosis of Ito transmission is considered low, except when X-linked mutations are present in female patients.
What would you like to print?