Presentation
History
A diagnosis of postinflammatory hyperpigmentation should be considered if a history of a preceding pathologic process or injury to the affected area of hyperpigmentation is present.
Physical Examination
The distribution of the hypermelanotic lesions depends on the location of the original inflammatory dermatosis. The color of the lesions ranges from light brown to black, with a lighter brown appearance if the pigment is within the epidermis (ie, epidermal melanosis) and a darker gray to bluish appearance if lesions contain dermal melanin (ie, dermal melanosis). Note the image below.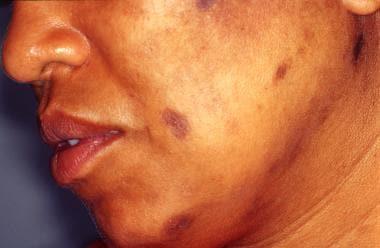 Photo of a 42-year-old African American woman with macules of postinflammatory hyperpigmentation on the left side of her face as a result of acne excoriée.
What would you like to print?