Overview
Background
Adverse cutaneous reactions to medications are a common reason for consultations with dermatologists. Drug-induced skin disorders may manifest in a variety of ways. Drugs may cause exanthems, urticaria, hypersensitivity syndromes, pustular eruptions, erythema multiforme, toxic epidermal necrolysis, cutaneous necrosis, and abnormal pigmentation of the skin and mucosa. Although pigmentary changes caused by drugs usually result in a limited degree of morbidity, these changes may be very disturbing to the patient.
The image below depicts a patient with amiodarone pigmentation.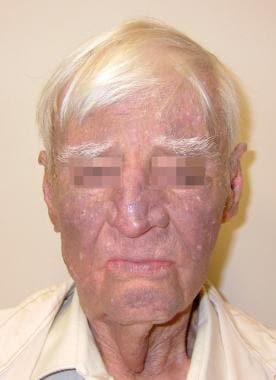 Amiodarone pigmentation.
Drug-induced pigmentary abnormalities may be classified into 3 groups, which are (1) hyperpigmentation/melanosis, (2) hypopigmentation/leukoderma, and (3) dyspigmentation or occurrence of unusual skin color.
A related article is Fixed Drug Eruptions. Additionally, the Medscape Adverse Drug Event Reporting Resource Center may be of interest.
Pathophysiology
Multiple pathologic mechanisms are responsible for drug-induced pigmentation disorders. Compared with the immunological etiology underlying many drug allergies, most cases of pharmacologic pigmentation are not immunologically mediated.
The pathogenesis underlying drug-related dyspigmentation can also be categorized into 3 mechanisms, which are (1) drug or drug metabolite deposition in the dermis and epidermis, (2) enhanced melanin production with or without an increase in the number of active melanocytes, and (3) drug-induced postinflammatory changes to skin. Similarly, chemical hypopigmentation is also thought to occur through a variety of pathologic mechanisms, including a reduced number of skin melanocytes, enzymatic blockade of melanogenesis, and inhibition of melanosome transfer.
Epidemiology
Frequency
United States
The rate of drug-induced dyspigmentation varies depending on the drug and cumulative dose. Some drugs, such as amiodarone, have been reported to have a rate of blue-gray dyspigmentation as high as 24% when the cumulative dose is greater than 200 mg.
International
Drug-induced skin pigmentation is estimated to account for 10-20% of all cases of acquired dyspigmentation worldwide.
Race
Drug-induced pigmentary changes can occur in persons of any race, but hypomelanosis is seen more frequently and appears more dramatically in patients with darker-pigmented skin. Additionally, people with darker skin often exhibit more intense hyperpigmentation than individuals with fair skin. [1]
Sex
No differences are reported in the prevalence of drug-related pigmentation among males versus females.
Age
Drug-related dyspigmentation is seen in persons of all ages.
What would you like to print?