Presentation
History
The natural history of alopecia areata is unpredictable. Extreme variations in duration and extent of the disease occur from patient to patient. Alopecia areata most often is asymptomatic, but some patients (14%) experience a burning sensation or pruritus in the affected area. The condition usually is localized when it first appears. Of patients with alopecia areata, 80% have only a single patch, 12.5% have 2 patches, and 7.7% have multiple patches. No correlation exists between the number of patches at onset and subsequent severity. Alopecia areata most often affects the scalp (66.8-95%); however, it can affect any hair-bearing area. The beard is affected in 28% (males; see first image below), eyebrows in 3.8%, and extremities in 1.3% of patients (see second image below). More than one area can be affected at once.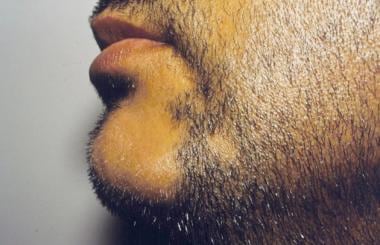 Alopecia areata affecting the beard.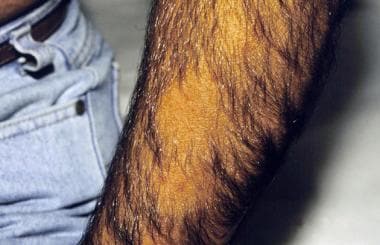 Alopecia areata affecting the arms.
Localized alopecia areata
Episodes of localized (< 50% involvement) patchy alopecia areata usually are self-limited; spontaneous regrowth occurs in most patients within a few months, with or without treatment.
Extensive alopecia areata
Extensive (>50% involvement) forms of alopecia areata are less common. Alopecia totalis or alopecia universalis are reported to occur at some point in 7% of patients; alopecia areata involving more than 40% hair loss is seen in 11%. The proportion of patients with alopecia totalis appears to decrease with every decade of life.
In 30% of patients with alopecia totalis, complete hair loss occurred within 6 months after onset of disease. Sharma et al [18] reported a mean progression period to alopecia totalis of 4 months after onset. The natural evolution of alopecia totalis is unpredictable, but recurrences of alopecia areata (not necessarily alopecia totalis) are expected.
In a study involving 736 patients, [17] the relapse rate was 90% over 5 years. One percent of children and 10% of adults can experience long-lasting regrowth. Forty-four percent of children and 34% of adults experience a significant period of normal or near-normal hair growth. Twenty-two percent of children and 34% of adults do not experience regrowth.
Associated conditions
Because some of the entities associated with alopecia areata occur uncommonly in the general population, a large number of patients with alopecia areata need to be examined to confirm whether an increased prevalence of these conditions exists among patients with alopecia areata. Unfortunately, most studies are performed on small groups; therefore, the data should be interpreted carefully.
Atopic dermatitis is seen in 9-26% of patients with alopecia areata. In the general population, the prevalence of atopic dermatitis in children in temperate developed countries varies from 5-20%. In adults, the prevalence decreases to 2-10%. Some authors have found atopy to be a poor prognostic factor for alopecia areata.
Vitiligo is seen with an incidence varying from 1.8-3% compared with 0.3% in control subjects. Also see Vitiligo.
Clinically evident thyroid disease was found in 0.85% of 1700 patients with alopecia areata. [19] The prevalence of thyroid disease determined on a clinical or laboratory basis varies among studies from 0.85-14.7%. The incidence of thyroid disease in control subjects is estimated to be 0.17-2%. The presence of microsomal antibodies is found in 3.3-16% of patients. Antibodies can be found with or without signs or symptoms of thyroid disease, but patients with positive autoantibodies have a higher incidence of functional abnormalities found on thyroid-releasing hormone tests (26% vs 2.8%). The incidence of thyroid microsomal and thyroglobulin antibodies in control subjects is 7%. Other studies have not supported these results. A study in 100 patients with alopecia areata failed to find an increased incidence of circulating autoantibodies, including mitochondrial and thyroglobulin antibodies.
Collagen-vascular diseases have been found in 0.6-2% of patients with alopecia areata, while the incidence in control subjects is 0.17%. The incidence of alopecia areata in 39 patients with lupus erythematous was 10% in a study by Werth et al, [20] in contrast to 0.42% of general dermatologic patients.
Diabetes mellitus was found to be more common in control subjects (1.4%) than in patients with alopecia areata (0.4%). [21] The occurrence of alopecia areata may protect against the appearance of type I diabetes mellitus. However, the incidence of type I diabetes mellitus was significantly higher in relatives of patients with alopecia areata compared with the general population.
Alopecia areata is seen in 6-8.8% of patients with Down syndrome, but only 0.1% of patients with alopecia areata have Down syndrome. The high frequency of alopecia areata in patients with Down syndrome suggests that a genetic linkage for alopecia areata may exist on chromosome 21.
Anxiety, personality disorders, depression, and paranoid disorders are seen with increased prevalence varying from 17-22% of patients, and the lifetime prevalence of psychiatric disorders is estimated to be 74% in patients with alopecia areata. Psychiatric problems are seen in both children and adults. No association has been made between the severity of the psychiatric disorder and that of alopecia areata.
Stressful life events within the 6-month period preceding episodes of alopecia areata were significantly higher in patients with alopecia areata compared with patients with androgenetic alopecia or tinea capitis. [22] Major stress factors (eg, death in family) were reported in 12% of patients.
Others associations in some studies include pernicious anemia, myasthenia gravis, ulcerative colitis, lichen planus, and Candida endocrinopathy syndrome.
Precipitating factors
A precipitating factor can be found in 15.1% of patients with alopecia areata. Major life events, febrile illnesses, drugs, pregnancy, trauma, and many other events have been reported, but no clear conclusions can be drawn. Despite these findings, most patients with alopecia areata do not report a triggering factor preceding episodes of hair loss.
Physical Examination
The presence of smooth, slightly erythematous (peach color) or normal-colored alopecic patches is characteristic. The presence of exclamation point hairs (ie, hairs tapered near proximal end) is pathognomonic but is not always found. A positive result from the pull test at the periphery of a plaque usually indicates that the disease is active, and further hair loss can be expected. Additionally, hair loss on other hair-bearing areas also favors the diagnosis. The most common presentation is the appearance of one or many round-to-oval denuded patches. No epidermal changes are associated with the hair loss.
Alopecia areata can be classified according to its pattern. Hair loss most often is localized and patchy (see image below).
A reticular pattern occurs when hair loss is more extensive and the patches coalesce. An ophiasis pattern occurs when the hair loss is localized to the sides and lower back of the scalp (see image below).
Conversely, sisaipho (ophiasis spelled backwards) pattern occurs when hair loss spares the sides and back of the head (see image below).
Alopecia totalis occurs with 100% hair loss on the scalp (see image below).
Alopecia universalis occurs with complete loss of hair on all hair-bearing areas. Alopecia areata usually is focal; however, it can be diffuse, thereby mimicking telogen effluvium (TE) or the type of androgenetic alopecia seen in women (see image below).
See also Androgenetic Alopecia and Telogen Effluvium.
Dermoscopy
The application of dermoscopy to the evaluation of hair loss is only recently being pioneered. Dermoscopy is safe and simple, and may have great potential in the care of alopecia. However, it's diagnostic accuracy will need to be validated by well-designed studies. [23]
The presence of yellow dots seems to be a specific feature of alopecia areata and has been reported to be present in 95% of patients, regardless of their disease stages. Following histopathological correlation, these yellow dots represent degenerated follicular keratinocytes and sebum contained within the ostium of hair follicles. Although occasionally seen in advanced male-pattern hair loss, yellow dots are not seen in cases of female-pattern hair loss, scaring alopecia, or telogen effluvium.
Other dermoscopic signs reported include black dots, tapering hairs, broken hairs, and clustered short vellus hairs.
Nail involvement
Nail involvement is found in 6.8-49.4% of patients and most commonly is seen in patients with severe forms of alopecia areata. Pitting is the most common finding. Several other abnormalities have been reported (eg, trachyonychia, Beau lines, onychorrhexis, onychomadesis, koilonychia, leukonychia, red lunulae). Fingernails predominantly are affected.
What would you like to print?