Presentation
History
The presenting sign of alopecia mucinosa is hair loss in hair-bearing areas. Skin eruptions present as pruritic, pink–to–yellow-white, follicular papules and plaques. Lesions may be isolated or multiple. Mycosis fungoides is recognized at the time of diagnosis in approximately 15-30% of patients with alopecia mucinosa.
Physical Examination
The clinical manifestations of alopecia mucinosa are grouped follicular papules and alopecia. Nodules, plaques, and patches of follicular papules may exist. Occasionally, mucinous material can be expressed from active lesions, and erythema and scaling are usually present. The face and the scalp are the most common sites of involvement.
The alopecia that develops on hair-bearing skin is of the nonscarring type (see the image below).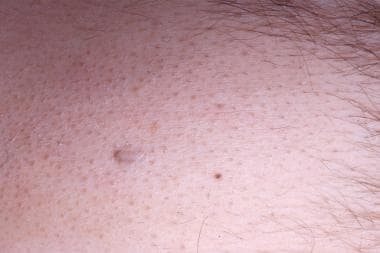 Courtesy of San Antonio Uniformed Services Health Education Consortium (SAUSHEC) teaching files.
Usually, the alopecia is reversible unless follicular destruction has occurred due to excess mucin in the outer root sheath and sebaceous glands. In patients with permanent alopecia, the whole follicle degenerates, and the cystic cavity becomes blocked with keratinous debris. When the plugs persist, they are obvious features on healed, hairless patches of alopecia mucinosa.
Causes
Alopecia mucinosa represents various stages of follicular damage leading to hair loss. The reactive process is of unknown etiology. The role of circulating immune complexes and cell-mediated immunity has been considered.
Complications
Although the question of whether alopecia mucinosa is a transitional state evolving into mycosis fungoides is unresolved, it is proven that alopecia mucinosa may precede the development of mycosis fungoides by several years. Thus, additional biopsy specimens and extremely close follow-up care are crucial in all variants of alopecia mucinosa.
What would you like to print?