Presentation
Physical Examination
The clinical manifestations of alopecia mucinosa are grouped follicular papules and alopecia. Nodules, plaques, and patches of follicular papules may exist. Occasionally, mucinous material can be expressed from active lesions, and erythema and scaling are usually present. The face and the scalp are the most common sites of involvement. In one case of alopecia mucinosa with patchy alopecia of the eyebrows, clinicians noted a gelatinous, white material on the hair shafts of the affected eyebrow area. This material bared a resemblance to toothpaste. [14]
The alopecia that develops on hair-bearing skin is of the nonscarring type (see the image below).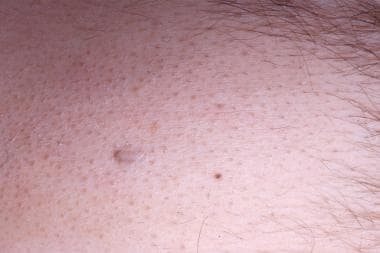 Courtesy of San Antonio Uniformed Services Health Education Consortium (SAUSHEC) teaching files.
Usually, the alopecia is reversible unless follicular destruction has occurred due to excess mucin in the outer root sheath and sebaceous glands. In patients with permanent alopecia, the whole follicle degenerates, and the cystic cavity becomes blocked with keratinous debris. When the plugs persist, they are obvious features on healed, hairless patches of alopecia mucinosa.
What would you like to print?