Workup
Histologic Findings
Multiple skin biopsy samples are needed in the evaluation of patients with alopecia mucinosa because of the association with lymphoma. The characteristic features of alopecia mucinosa are follicular degeneration with the accumulation of mucin within the follicles (see the image below). Early lesions contain an abundance of mucin between the decaying root sheath cells or pooling in localized collections. The mucinous degeneration begins in the pilosebaceous units. A periappendiceal, perivascular, or interstitial lymphocytic mixed inflammatory cell infiltrate often exists. In patients with chronic alopecia mucinosa, the histologic analysis demonstrates the presence of distorted follicles with variable viability.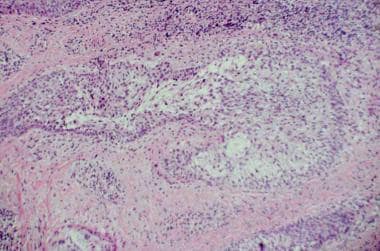 Courtesy of Dirk M. Elston, MD.
Differentiation between the variants of alopecia mucinosa is difficult; thus, several criteria are used to differentiate the histologic features of benign alopecia mucinosa and mycosis fungoides–associated alopecia mucinosa. [15] Although no single criterion is diagnostic, [16] cytologic atypia and a bandlike infiltrate are more common in mycosis fungoides. In addition, Pautrier microabscesses in the epidermis and upper follicle are rarely found in benign alopecia mucinosa but are common in mycosis fungoides. The benign inflammatory process is typically characterized by an infiltrate confined to the follicular, perifollicular, or perivascular zones with no extension of cells into the epidermis or papillary/reticular dermis. On the other hand, the typical infiltrate associated with mycosis fungoides involves the upper dermis invading the epidermis and includes characteristic tumor cells in the damaged follicle, epidermis, and/or dermis.
What would you like to print?