Presentation
History
The distribution tends to be a seborrheic one on the head and the trunk. About a fifth of patients have palmar and/or plantar plaques, which may be the first sign appearing weeks or months before other clinical features.
Lesions are less commonly pruritic with the classic type than in the other 2 forms.
Physical Examination
Patients with eosinophilic pustular folliculitis in the classic form have chronically recurrent crops of sterile follicular papulopustules with peripheral extension and central clearing. [26, 27] Small papules tend to enlarge and coalesce into large plaques. [28] They may be acneiform. [29]
Papulopustules with or without plaques tend to favor the face and the trunk as shown below, although the extremities may also be involved. With the classic form, the palms and the soles may also be affected. In children, the scalp, particularly at the vertex, is most frequently involved.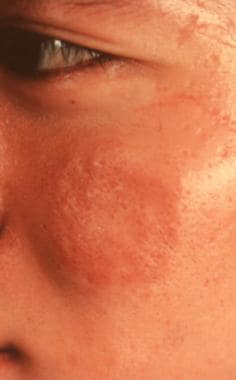 A patchy lesion on the cheek in a patient with eosinophilic pustular folliculitis. Courtesy of Professor T. Nishikawa, Department of Dermatology, Keio University School of Medicine, Tokyo, Japan.
Some patients may have features of coexistent Ofuji disease and eosinophilic lymphoid granuloma (Kimura disease). [30]
Individual papulopustules may be larger in the classic form, up to 20-50 mm in diameter, rather than the 1-3 mm in diameter seen in patients with HIV disease and in infants; peripheral extension with central clearing may be much less frequent in these 2 forms than in the classic one, which often has an erythematous base. The latter tends to heal more commonly with postinflammatory hyperpigmentation.
No systemic involvement is evident, although a peripheral leukocytosis and eosinophilia may be seen. Atypical features, such as nonfollicular papules and urticarial plaques, are often evident in patients with HIV disease and in infants.
What would you like to print?