Overview
Background
Lupus miliaris disseminatus faciei (LMDF) is an uncommon, chronic, inflammatory dermatosis characterized by red-to-yellow or yellow-brown papules of the central face, particularly on and around the eyelids. Lesions may occur singly or in crops. Once considered a tuberculid because of the histology, many authors now consider LMDF to be an extreme variant of granulomatous rosacea. Others believe it is a distinct entity because of its characteristic histopathology and occasional involvement of noncentral facial areas. [1] Note the images below.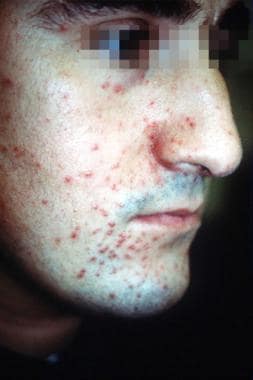 Lupus miliaris disseminatus faciei central facial papules. Courtesy of San Antonio Uniformed Services Health Education Consortium.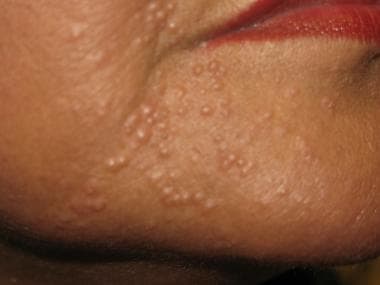 Lupus miliaris disseminatus faciei.
A variety of treatments are reportedly of some benefit, but controlled studies to establish the best treatment are lacking. Most clinicians find LMDF difficult to control; LMDF may result in disfiguring scarring. Etiology and pathogenesis are unknown. Active disease usually involves a 1- to 3-year course and resolves spontaneously.
In 2000, Skowron et al proposed a name change from LMDF to FIGURE (facial idiopathic granulomas with regressive evolution). [2] While the term LMDF is still widely used, the term FIGURE is now appearing in some publications.
Pathophysiology
Lupus miliaris disseminatus faciei (LMDF) affects only the skin. Studies have failed to demonstrate Mycobacterium tuberculosis or other mycobacterial disease by culture or polymerase chain reaction. [3] Extrapolating from theories of the pathogenesis of other forms of rosacea, some authors suggest that LMDF is a reaction to Demodex folliculorum. While the usual distribution coincides with that of most rosacea cases, an association with Demodex has not been confirmed. Others suggest that LMDF is a granulomatous reaction to hair follicle destruction or ruptured epidermal cysts.
Etiology
The etiology of lupus miliaris disseminatus faciei (LMDF) is unknown, but suggestions have included infection by M tuberculosis, atypical mycobacteria, tuberculids, foreign body granuloma (particularly to zirconium), reaction to cyst contents, and reaction to D folliculorum. Onset has been reported after stem cell transplantation. [4]
Epidemiology
Frequency
Lupus miliaris disseminatus faciei (LMDF) frequency is unknown; the disease is consider rare but may be more prevalent in Japan.
Race
Lupus miliaris disseminatus faciei (LMDF) may be more common in Asians, especially Japanese people.
Sex
Authors have stated that both sexes can be affected with lupus miliaris disseminatus faciei (LMDF); however, most published reports reviewed for this discussion and cited in the Bibliography describe solely or predominantly male patients.
Age
Young adults in their 20s most often are affected, although one report by Shitara described a woman in her early 70s. [5] Young adolescents also may be affected, and some authorities believe that chronic granulomatous periorificial disease of children (CGPD) is a form of lupus miliaris disseminatus faciei (LMDF) because histology and treatment response are the same. [6]
Prognosis
Prognosis for spontaneous resolution within 2 years is good. Therapy may help speed resolution. Recurrences are not described.
Patient Education
Educate patients about the nature of the disease to help alleviate anxiety and to establish realistic treatment expectations.
What would you like to print?