Workup
Laboratory Studies
A CBC count should be performed for all patients found to have neutrophilic eccrine hidradenitis (NEH) by skin biopsy who have not been previously diagnosed with a malignancy.
Procedures
A punch biopsy of a representative lesion should be performed.
Histologic Findings
Routine biopsy specimens reveal a dense neutrophilic infiltrate within and around eccrine glands, with necrosis of eccrine epithelial cells. Some severely neutropenic patients may have a paucity or absence of neutrophils histologically, but the necrosis of eccrine glands is evident. Apocrine gland involvement, squamous syringometaplasia, dermal hemorrhage, dermal edema, epidermal spongiosis, basilar vacuolization, focal keratinocyte necrosis, mucin deposits, and mild, superficial panniculitis may be observed. Associated leukocytoclastic vasculitis has been reported. [40] Immunohistochemical staining from a healthy adult patient with recurrent summertime generalized neutrophilic eccrine hidradenitis (NEH) showed decreased expression of dermcidin on the secretory portion of the eccrine glands. [31]
Cases revealing histologic features of both acute febrile neutrophilic dermatosis (Sweet syndrome) and neutrophilic eccrine hidradenitis have been reported. [41]
See the histological image below.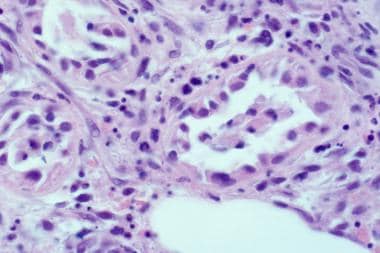 Neutrophilic infiltrate on hematoxylin and eosin stain (100X). Courtesy of Jeffrey P. Callen, MD, and Vilma Fabre, MD.
What would you like to print?