Presentation
History
In perforating folliculitis, papules typically are concentrated on hair-bearing portions of the extremities (arms, thighs) and buttocks. Often, lesions are asymptomatic, although pruritus may be a striking feature, especially in patients with renal insufficiency. Lesions may wax and wane and persist for months or years. Spontaneous remission can occur, and remission following renal transplantation has been documented in 1 patient who developed lesions secondary to renal failure.
Physical Examination
Typical primary lesions of perforating folliculitis consist of 2-8 mm diameter scaly folliculocentric papules with small central keratotic plugs and varying degrees of erythema (see the image below).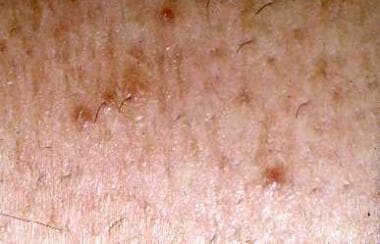 Typical appearance of lesions of perforating folliculitis consisting of keratotic follicular papules.
Compression of papules may yield keratin debris and a coiled hair or hair fragments. An initial eruption of follicular pustules, followed by typical plugged papules and subsequent development of prurigo-nodularis–like lesions was reported in 1 study. The Köebner phenomenon usually is not readily demonstrable, but a linear configuration occasionally can be observed. A case of progressive generalized perforating folliculitis has been reported to be associated with erythroderma, keratoderma of the palms and soles, alopecia of the scalp and eyebrows, and nail changes. Accompanying jaundice has been observed in patients with underlying liver disease. [29]
Complications
Potential complications of perforating folliculitis include secondary infection of lesions (resulting from trauma or other factors), spread of lesions despite therapy, or adverse effects of treatments, such as irritation from topical retinoids or atrophy and telangiectasia from chronic topical corticosteroid use.
Perforating folliculitis complications related to any underlying medical conditions may occur.
What would you like to print?