Overview
Background
Perioral dermatitis (POD) is a chronic papulopustular facial dermatitis. It mostly occurs in women and children. [1] The clinical and histologic features of the perioral dermatitis lesions resemble those of rosacea. Patients require systemic and/or topical treatment and an evaluation of the underlying factors.
See the image below.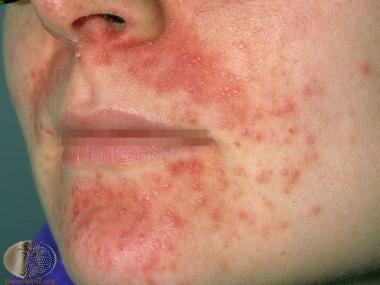 Perioral dermatitis. Courtesy of Professor Raimo Suhonen and DermNet New Zealand (http://www.dermnetnz.org/assets/Uploads/acne/s/pod6.jpg).
Pathophysiology
The etiology of perioral dermatitis (POD) is unknown; however, the long-term use of topical steroids for minor skin alterations of the face often precedes the manifestation of perioral dermatitis. Perioral dermatitis is limited to the skin.
Epidemiology
Frequency
United States
The incidence of perioral dermatitis (POD) is estimated to be 0.5-1% in industrialized countries, independent of geographic factors.
International
The incidence of perioral dermatitis seems to be lower in less developed countries, but no statistics are available.
Sex
In adults, perioral dermatitis predominantly affects young females, who account for an estimated 90% of the cases. The number of male patients is assumed to be increasing because of changes in their cosmetic habits.
Age
In adults, the vast majority of patients are women aged 20-45 years. Perioral dermatitis also occurs commonly in children.
Prognosis
Perioral dermatitis (POD) is not a life-threatening disease. However, unexpectedly long period of treatment may be required to achieve a cosmetically satisfactory skin condition.
Patient Education
Reassurance and education about possible underlying factors and the time course of the disease are critical. These measures help the patient to cope with the character of the disease and help to minimize the risk of recurrences.
Patients have to be aware that initial deterioration may occur, especially if they previously used a topical steroid.
The use of all topical preparations, including cosmetics, should be avoided except the prescribed medication.
The patient should be advised that remission might not occur for many weeks, despite correct treatment.
What would you like to print?