Presentation
History
Patients report a painful acneiform eruption that occurs after shaving. The patient's shaving history, including the method and the frequency, may reveal an improper shaving technique. The method for preparation of the beard, the use of medications or depilatories, and the use of hair-releasing procedures should be discussed with the patient.
Physical Examination
The primary lesion is a flesh-colored or erythematous papule with a hair shaft in its center. If the hair shaft is gently lifted up, the free end of the hair comes out of the papule. These inflammatory papules are seen in shaved areas adjacent to the follicular ostia, as shown in the image below.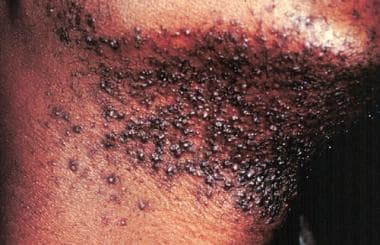 Pseudofolliculitis barbae on the neck of a black man.
Pustules and abscess formation can occur from secondary infection.
Postinflammatory hyperpigmentation, scarring, and keloid formation may occur in chronic or improperly treated cases.
Complications
Although usually not regarded as a serious medical problem, pseudofolliculitis barbae may cause cosmetic disfigurement. The papules may lead to scarring, postinflammatory hyperpigmentation, secondary infection, and keloid formation.
What would you like to print?