Workup
Laboratory Studies
The diagnosis is made clinically.
Procedures
A skin biopsy is sometimes performed to exclude other cutaneous diseases, such as lupus or sarcoidosis.
Histologic Findings
The histologic features of rosacea depend on the stage of disease. Nonpustular lesions show a nonspecific perivascular and perifollicular lymphohistiocytic infiltrate, accompanied by occasional multinucleated cells, plasma cells, neutrophils, and eosinophils. Papulopustular lesions demonstrate more pronounced granulomatous inflammation and sometimes perifollicular abscesses. Demodex folliculorum may be abundant in nearby follicles. See the image below.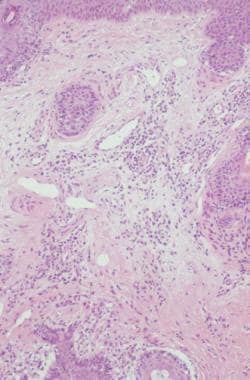 Histopathology of rosacea. Perifollicular chronic inflammation and vascular ectasia. Courtesy of Dirk Elston, MD.
What would you like to print?