Workup
Approach Considerations
The diagnosis of trichostasis spinulosa (TS) can be made clinically without obtaining a biopsy specimen. If the diagnosis is in doubt, a specimen may easily be obtained by removing a hair plug with a forceps or comedone extractor. The specimen may be placed on a glass slide for microscopic examination. Treatment with potassium hydroxide dissolves the keratinous plug, leaving numerous vellus hairs in a characteristic tuft. Dermatoscopy may also be used to help confirm the diagnosis. [6]
Histologic Findings
If a biopsy specimen is obtained, histology reveals a dilated hair follicle housing multiple vellus hairs in a keratotic sheath and acanthosis of the follicular epithelium (see the images below). Inflammatory changes are not a characteristic of trichostasis spinulosa.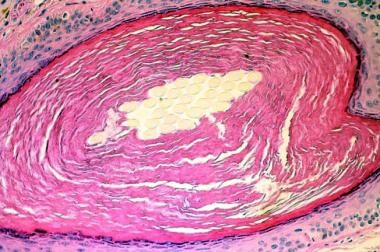 Biopsy specimen demonstrates a dilated follicle that contains numerous vellus hairs and keratin debris.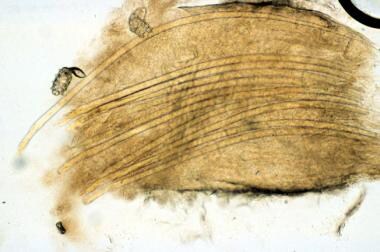 Potassium hydroxide mount of an extracted plug reveals multiple vellus hairs embedded in keratinous material.
What would you like to print?