Presentation
History
Patients with tufted hair folliculitis report hair loss that develops slowly, often over years. The hair loss frequently is accompanied by pain or swelling of the affected scalp. Patients frequently complain of crust and scales adherent to the scalp and hair. The ability to express pus from the follicular orifice is a frequent, but not constant, finding. This process usually is limited to a single area of the scalp that enlarges gradually. If the patient has another form of scarring alopecia accompanied by tufted hair, such as acne keloidalis, the history will reflect the predominant cause of hair loss.
Physical Examination
The most prominent feature of this disorder is the presence of tufts of 8-15 hairs that appear to emerge from a single follicular orifice in a "doll's hair" pattern. Adjacent to and intermingled with the tufts are areas of scarring alopecia, with complete loss of follicles. The area of tufts and scarring is somewhat well circumscribed and may be accompanied by varying degrees of edema, erythema, and tenderness. Boggy plaques have been described. There may be crust adherent to the scalp or hair, often in a collarette around the most proximal portion of the hair. Pustules are not common, but pus may be expressed from the follicular openings. Several reports have noted that a high percentage of telogen hairs are obtained when tufts of hair are forcibly extracted. [12]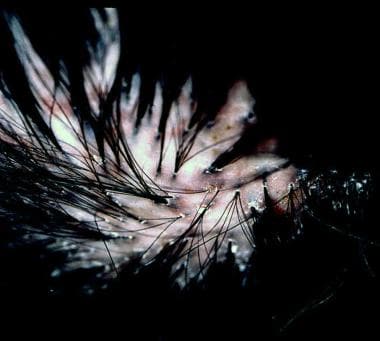 Tufted hairs. Multiple hairs emerging a dilated follicular orifice with surrounding scarring alopecia.
What would you like to print?