Overview
Practice Essentials
Acneiform eruptions are dermatoses that resemble acne vulgaris. Lesions may be papulopustular, nodular, or cystic. While acne vulgaris typically consists of comedones, acneiform eruptions (such as acneiform drug eruptions) usually lack comedones clinically. See the image below.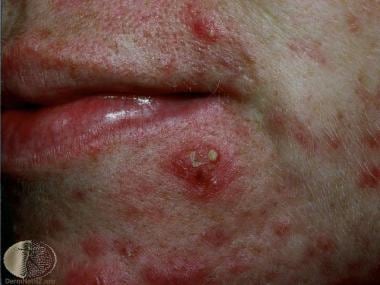 Acneiform eruption. Courtesy of DermNet New Zealand (http://www.dermnetnz.org/assets/Uploads/doctors/quizzes/48/case6.jpg).
Acnelike eruptions develop as a result of infections, hormonal or metabolic abnormalities, genetic disorders, and drug reactions.
Those entities included in this discussion are nevus comedonicus, eruptive hair cysts, tuberous sclerosis, eruptive hair cysts, tuberous sclerosis, [1, 2] amineptine acne, steroid acne, chloracne, acneiform drug eruptions, gram-negative folliculitis, eosinophilic pustular folliculitis, Pityrosporum folliculitis, coccidioidomycosis, secondary syphilis, [3, 4] sporotrichosis, [5] rosacea, and perioral dermatitis.
Etiology
See Physical Examination.
Signs and symptoms
Also see Physical Examination.
Patients with acneiform eruptions present with acnelike lesions such as papulonodules, pustules, and cysts. They typically do not present with comedones, which is a distinguishing factor. The physical location may be outside of the area in which acne vulgaris occurs. Acneiform eruptions can be distinguished from acne vulgaris by a history of sudden onset, monotonous lesion morphology, and development of the eruption at an age outside the range typical of acne vulgaris. In the case of drug-induced acneiform eruptions, the eruption resolves with discontinuation of the medication.
Diagnostics
The workup of acneiform eruptions varies greatly, reflecting the wide variety of diseases. This can include skin biopsies, cultures and sensitivities, serologic tests, and empiric trials of drug withdrawal (see Physical Examination).
Depending on the eruption, biopsies may demonstrate suppurative folliculitis, eosinophilic folliculitis, keratosis pilaris, or granulomatous dermatitis. [6]
Management
Treatment varies with the particular disease suspected and consists of a wide range of methods, including excision, laser ablation, topical/oral antibiotics, topical/oral retinoids, and drug withdrawal. Please review individual topics in Physical Examination for greater detail.
Oral tetracyclines represent an efficacious prophylactic option for acneiform eruptions due to epidermal growth factor receptor (EGFR) inhibitors. They can be recommended to suitable patients beginning treatment. [7] However, there is good evidence favoring the use of systemic retinoids instead. [8]
What would you like to print?