Presentation
History
Perifolliculitis capitis abscedens et suffodiens (PCAS) usually begins as a simple folliculitis, most often of the vertex and/or occiput, with clusters of perifollicular pustules rapidly followed by abscess and sinus formation.
Nodules range from a few millimeters to several centimeters in diameter and may be firm or fluctuant. Seropurulent fluid may be expressed from fluctuant nodules. Lesions may persist for years and frequently heal with a scarring alopecia. No systemic symptoms are usually evident. PCAS has a strong tendency to recur.
Physical Examination
PCAS most often affects the vertex and occipital scalp. The main physical signs, depending on the disease stage, are as follows [19, 20] :
Tender nodules: Some of these discharge pus or blood (see the first image below).

Intercommunicating sinuses between nodules

Patchy, scarring alopecia (see the second image below)

Dermoscopy of patches of alopecia in PCAS: Yellow dots, black dots, empty follicular openings, white dots, red dots, regrowing hair, and yellowish/whitish areas with an absence of follicular openings are seen. There is no unified opinion on trichoscopic features; however, they seem to correlate with disease activity and duration. [21, 22, 23]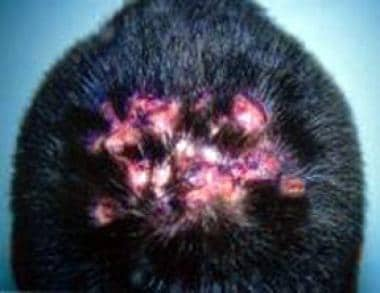 A white patient with painful nodules. Image used with permission from Medical Science Monitor, 2000, 6(3): 602-4.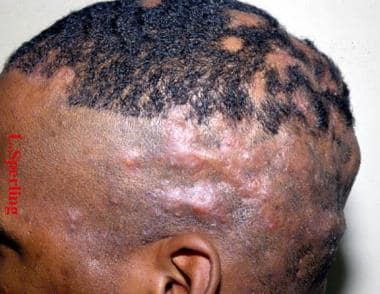 Side view of a black man with painful cutaneous nodules and patchy alopecia, characteristic of perifolliculitis capitis abscedens et suffodiens.
Shedding hair from the surface of nodules and sparing in between the inflamed areas can be observed and spondyloarthropathy has been reported. Regional lymphadenopathy is rarely noted. [24, 25]
What would you like to print?