Medication
Medication Summary
No single effective treatment is available for perifolliculitis capitis abscedens et suffodiens (PCAS), because the condition's etiology is unknown. [59] Antibiotics are not a standard treatment, because bacterial infection is a secondary event. Intralesional steroid injections may be helpful in early stages of the disease.
Oral zinc sulfate [38, 39] was successful in 2 patients with PCAS, at 400 mg 3 times daily and 135 mg 3 times daily for 3 months. Successful treatment with topical isotretinoin (not available in the United States) was described in 1 patient. [34]
The best results have been reported with oral isotretinoin, which may be helpful in the follicular retention aspect of the disease (see the image below). A long course is considered to be the most effective treatment, with a daily dose of 1 mg/kg/day for approximately 4 months and then not less than 0.75 mg/kg for another 6-7 months. To avoid relapses, the treatment should be continued for approximately 4 months after the disease seems to be clinically inactive. [29, 30, 31, 32, 60]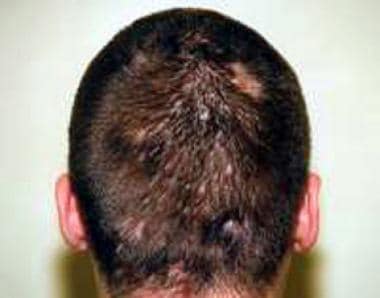 A white patient with painful nodules after 3 months of isotretinoin treatment. Image used with permission from Medical Science Monitor, 2000, 6(3): 602-4.
In addition, case reports have also been published on patients who were successfully treated with combinations of oral isotretinoin and rifampicin, [35] oral isotretinoin and dapsone, [36] infliximab, [40, 43, 44] adalimumab, [41, 42] and risankizumab. [61]
Retinoid-like Agents
Class Summary
Decreased cohesiveness of abnormal, hyperproliferative keratinocytes may reduce the potential for malignant degeneration. Retinoids modulate keratinocyte differentiation and have been shown to reduce the risk of skin cancer formation in renal transplant patients.
Isotretinoin is an oral agent that treats serious dermatologic conditions. It is a synthetic, 13-cis isomer of naturally occurring tretinoin (trans-retinoic acid); tretinoin and isotretinoin are structurally related to vitamin A.
Isotretinoin is a first-line treatment for PCAS because of its influence on the pilosebaceous unit. It changes the pattern of keratinization of the follicle, has anticomedogenic effect, reduces the size and activity of the sebaceous glands, and reduces bacterial flora. It also has some anti-inflammatory effect.
A US Food and Drug Administration (FDA)–mandated registry is now in place for all individuals prescribing, dispensing, or taking isotretinoin. This registry aims to further decrease the risk of pregnancy and other unwanted and potentially dangerous adverse effects during a course of isotretinoin therapy. For more information on this registry, see iPLEDGE.
What would you like to print?